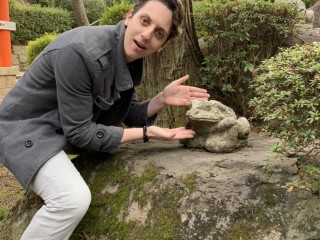 Zak Armine-Klein CC'21
Hey all! I am a senior at Columbia College studying East Asian Language and Culture, focusing on the link between Society and Environmental Issues. Last Spring I got to travel to Japan and study at the Kyoto Consortium for Japanese Studies (KCJS) located at Doshisha University.
I opted into doing homestay which was a fantastic experience! Getting to know my host family as well as their friends and family helped me feel like part of the local community. When I wasn't spending time with my host family or catching up on homework for the KCJS courses, I often hiked the picturesque trails of Mt. Hiei with friends, practiced Kendo at the Kyoto Martial Arts Center, and occasionally caught a concert at one of Kyoto's many live houses. Both through KCJS and in my own free time, I got to travel not only to famous cities such as Hiroshima, but also got to spend time traveling to small villages surrounding Kyoto to conduct my own research on traditional Japanese farming and craft practices. These trips were not only a blast to get out of the city and have fun with my friends, but some of the experiences I had, such as spending almost a week living in a small farming village called Kamiseya, defined my experience and helped me figure out what I wanted to study in Graduate school and onwards. My time at KCJS was incredibly rewarding; it opened me up to new experiences while allowing me to develop my language skills and cultural awareness in a much more organic way than can ever be obtained in a classroom setting. If you have any questions at all feel free to reach out to me. I am always more than happy to text, chat, or grab a virtual coffee over zoom.