Note about COVID: We are continuing to prepare for in-person programming in 2021-22. Some changes to the program have already been made due to COVID and are reflected on this page. Further modifications may be made as local conditions evolve. Specifics about what to expect will be provided before you make any financial commitments to the program. You are also recommended to make a back up plan as needed. In the meantime, please make an appointment with the program adviser if you have any questions.
---
To learn more about the BCGS, please watch this pre-recorded information session.​
---
Spend a fall semester in Berlin -- the dynamic and multicultural city at the heart of the EU's economic and political powerhouse. Begin or expand your study of the German language and explore your academic interests by enrolling in courses taught in English or German alongside other international students. Discover contemporary German life and immerse yourself daily in the city's remarkable history!
Program Overview
Welcome to the Berlin Consortium for German Studies! The BCGS was established in 1995 and is proud to have over 800 alumni.
In cooperation with FU-BEST, the Freie Universität Berlin's European Studies Program, and the Freie Universität Berlin, the BCGS is excited to launch its new fall semester program that takes place from August to December. The fall program is designed to provide students of all levels of German proficiency -- including those with no German background -- the opportunity to study alongside other international students through courses and activities offered by the FU-BEST, the Freie Universität Berlin, and the BCGS.
Pathway for Continued Engagement in Berlin
Once you are living and studying in Berlin during the fall, you may find yourself wishing you can extend your stay as you become more confident in your German skills, discover more questions that need to be studied, and find that you don't want to give up your daily routine and new community of friends quite yet.
If you find yourself in this situation, you can consider applying to the original BCGS spring program (see below) to continue and advance your studies by enrolling in regular university courses with extra support and preparation from the program.
During the break (January and February), you can apply for an internship or spend the time exploring Germany and beyond.
The Original BCGS Program
If you have at least two years of German and would like to immerse yourself by studying alongside degree seeking students in regular university courses, consider applying to the original BCGS program.
This long established program follows the regular German university calendar and is offered during the academic year (German wintersemester: September to February and German sommersemester: March to July) or for spring semester (March to July).
If your school is on a quarter system, the German calendar coincides with the quarter system calendar so you can reach out to the BCGS adviser (or your home school adviser) to apply to this program.
THE CONSORTIUM
The Berlin Consortium for German Studies (BCGS) was founded in 1995 by a group of U.S. universities to help students improve their German and to give students the opportunity to enroll in a broad range of German university courses with the support of a structured program. Members of the consortium are:
University of Chicago
Columbia University and Barnard College
Cornell University
The Johns Hopkins University
University of Pennsylvania
Princeton University
In association with the University of Notre Dame and Vassar College
The BCGS welcomes qualified students from other institutions to apply.
Welcome from the Resident Director

Dear Student:

Congratulations! You have been admitted to our fall semester program at one of the leading universities in Germany, in one of the most exciting and vibrant places, a true cultural hotspot at the crossroads of Eastern and Western Europe. The BCGS in cooperation with FU-BEST and Freie Universität Berlin will be happy to give you the opportunity of enriching your undergraduate career through the experience of studying abroad which remains the gold standard of international higher education despite the challenges created by the COVID-19 pandemic. We are constantly fine-tuning the program to guarantee academic integrity and to adhere to Corona regulations as long as they are in effect.

The Berlin Consortium for German Studies at the Freie Universität Berlin is a once in a lifetime chance to immerse yourself in another culture and academic world, and to see life through a different lens. No doubt, cultural transitions may also include stressful moments, but you are not alone. There is an extremely well-functioning support system you can always fall back on. The BCGS and FU-BEST teams will guide you through the ups and downs of becoming an internationally educated undergrad with first-rate academic and professional opportunities


See you in Berlin!

Carmen Müller, Resident Director
Eligibility & Application
Submitted applications will be reviewed on a rolling basis through March 1st. Please note course registration is provided on a first come, first served basis and can fill up quickly.
We strongly encourage you to submit your application as soon as possible to secure your preferred courses.
---
Must be a currently enrolled as an undergraduate student in good academic and disciplinary standing
Minimum 3.0 average language GPA (if applicable)
Minimum 3.0 cumulative GPA
HOW TO APPLY
Want to apply? Click the "Start Your Application" button at the top of this page. If the button doesn't appear above, the program is not yet accepting applications. You will be asked to set up a short profile, which will allow us to send you relevant information about your application. Once you've created a profile, you will see a checklist of items that you will need to submit. These generally include:
Application questionnaire(s)
Option 1 + 2 Course Selection Form or Option 3 Course Selection Form (submit as soon as possible, as course selection is confirmed on a first-come, first-served basis)
Additional FU-Best Forms
Official Transcript
At some point prior to departure, an advising meeting with director of German language program at your school or with Columbia's language representative for visiting students

Home school approval/clearance

- prior to starting an application, please meet with your home school study abroad adviser to confirm your school will allow you to apply to this program.

Application fee (if applicable)
Academics
Submitted applications will be reviewed on a rolling basis through March 1st. Please note course registration is provided on a first come, first served basis and can fill up quickly.
We strongly encourage you to submit your application as soon as possible to secure your preferred courses.
Some of these options may be available in the spring term as well. Please continue to check the website for updated information.
---
Dependent on your language ability, course options will be available from the following:
FU-BEST German Intensive language courses or BCGS German Discourse and Culture (required)
FU-BEST academic courses taught in English
FU block seminars taught in German
Below please find recommended class schedules based on German language levels. Please note that the choice of electives taught in English and German can be customized depending on your individual academic interests and preferences.
Language prerequisite
intensive german language*
electives: fu-best electives (English); 4 credits/each
electives: fu block seminar electives (german); 3 credits/each
total recommended credits
option 1
0-1 semester

Intensive German Language; 5 credits*

Track 1: Intensive Beginner 1 (A1) + Intensive Beginner 2 (A2), prerequisite: none

Track 2: Intensive Beginner 2 (A2) + Intensive Intermediate 1 (B1); prerequisite: 1 semester of German

3 courses
n/a
17 credits
option 2
2-3 semesters of German

Intensive German Language; 5 credits*

Track 3: Intensive Intermediate 1 (B1) + Intensive Intermediate 2 (B2); prerequisite: 2 semesters of German

Track 4: Intensive Intermediate 2 (B2) + Intensive Intermediate 3 (B3); prerequisite: 3 semesters of German

3 courses
n/a
17 credits
option 3
3-4 semesters of German

Intensive German Language; 5 credits*

Track 4: Intensive Intermediate 2 (B2) + Intensive Intermediate 3 (B3); prerequisite: 3 semesters of German

Track 5: Intensive Intermediate 3 (B3) + Intensive Advanced 1 (C1); prerequisite: 4 semesters of German

2 courses
1 course
16 credits
option 4
4-5+ semesters of German
BCGS Discourse & Culture; 6 credits
n/a
3 courses
15 credits
*Note: Depends on language placement. Note Option 3: Given the intensive nature of the language courses and the program schedule, this is the recommended courseload for English and German electives for students with this language background. Please consult with your home school adviser and/or UGE adviser if you have any questions.
Have you already completed 4+ semesters of German? If you are an advanced language student (4+ semesters of German), please click on "New Fall Term Program" tab on the following BCGS website in order to learn more about Option 4 and to apply. This option follows the Fall Term Program calendar and ends by mid-December.
​The University reserves the right to withdraw or modify the courses of instruction or to change the instructors as may become necessary.
FU-BEST COURSES
Intensive German (5 credits)
Prior to final placement in the German language courses, you will complete an online placement test, after admittance to the program, but prior to your arrival in Berlin. Upon arrival, you will also complete an on-site interview to ensure adequate placement.

You are required to enroll in two consecutive German language courses at the appropriate level. Placement into the second course will depend on successful completion of the first course. See below for the following language tracks:

Track 1: Intensive Beginner 1 (A1) + Intensive Beginner 2 (A2)

Track 2: Intensive Beginner 2 (A2) + Intensive Intermediate 1 (B1)

Track 3: Intensive Intermediate 1 (B1) + Intensive Intermediate 2 (B2)

Track 4: Intensive Intermediate 2 (B2) + Intensive Intermediate 3 (B3)

Track 5: Intensive Intermediate 3 (B3) + Advanced 1 (C1)
FU-BEST Intensive German Curriculum
Please note: Advanced German language learners should enroll in the intensive BCGS German Discourse and Culture through the Original BCGS Program. Click on "NEW Fall Term Program" tab on the following BCGS website in order to learn more about Option 4.
Electives in English (4 credits)
FU-BEST electives are taught in English alongside other FU-BEST students who are international students. Students that are eligible for Option 1 or 2, noted above, will be able to attend these courses. For a list of courses, please refer to the FU-BEST website.
FREIE UNIVERSITÄT BERLIN (FU) BLOCK SEMINARS
Electives in German (3 credits)
FU block seminars are available for BCGS Fall Semester Program students who are eligible for Option 3, as noted in the above table. A block seminar is a specially organized intensive course that takes place from October-December. They are taught in German at the B1 or B2 level specifically for FU international students who are non-native speakers of German.
Fall 2021 block seminars are listed below:
GRADES AND TRANSCRIPTS
Grading & Credit Policy
Click here for the Columbia Semester/Academic Year program grading policies.
For credit amounts for each course type, please click

here.
Transcripts
All courses taken on the program are converted to an American grading scale and transmitted to students as follows:
Columbia students: Grades appear on SSOL and your transcript as semester grades from courses taken at Columbia. For more information, please see the section on Academic Credit in Steps to Study Abroad.
Barnard students: Grades appear on eBear and your transcript as any semester grades from courses taken at Barnard. For more information, please see the section on Credit and Transcripts for Barnard Students on our Barnard student pages.
University of Chicago, Cornell, Johns Hopkins, University of Notre Dame, University of Pennsylvania, Princeton, and Vassar students: The program sends grades directly to these institutions for direct posting on the home school transcript. Please review the home school's guidelines on grades and credit.
Non-Columbia students: Grades are entered into Columbia's system and you will need to request a transcript to obtain your final grades. Please see the section on Credit and Transcripts for Non-Columbia Students on the Non-Columbia student pages.
LOCATION
Freie Universität
Please view this video Introduction to the Freie Universität Berlin.
"This film offers a glimpse into the founding history of Freie Universität, as well as an impression of the diverse research and academic programs of one of the most prestigious universities in Germany. The film portrays several students and scholars and gives an overview of the history of Freie Universität, from its founding in 1948 on the historically significant Dahlem research campus, to the 1960s student movement and the changes following the fall of the Berlin Wall in 1989, on to its success in the Excellence Initiative of the German federal and state governments."
For a campus tour, please refer to the video below:
FU Campus Lankwitz
All FU-BEST classes take place on the Lankwitz campus of Freie Universität Berlin, which is easily accessible by public transport and located in the southwest of Berlin, surrounded by a primarily residential area.
FU Campus Dahlem
The BCGS facility is located on the main FU campus in Dahlem and functions as a home base for program participants enrolled in German Discourse and Culture and all FU block seminars. The building houses administrative offices for the BCGS staff; a small library of books, magazines, and newspapers; classroom space; and limited computer facilities where students may check e-mail and W-LAN access for their own laptops. We encourage you to watch the videos below for a closer look at the campus (the subtitles can be converted to English.)
Student Service Center: https://www.fu-berlin.de/en/studium/beratung/ssc/index.html
Video: https://medien.cedis.fu-berlin.de/pki/2020/campustour-a_720p.mp4
Veggie Mensa (dining hall): https://www.stw.berlin/en/dining-facilities/
Video: https://medien.cedis.fu-berlin.de/pki/2020/campustour-c_720p.mp4
FU Library: https://www.fu-berlin.de/en/sites/bibliotheken/index.html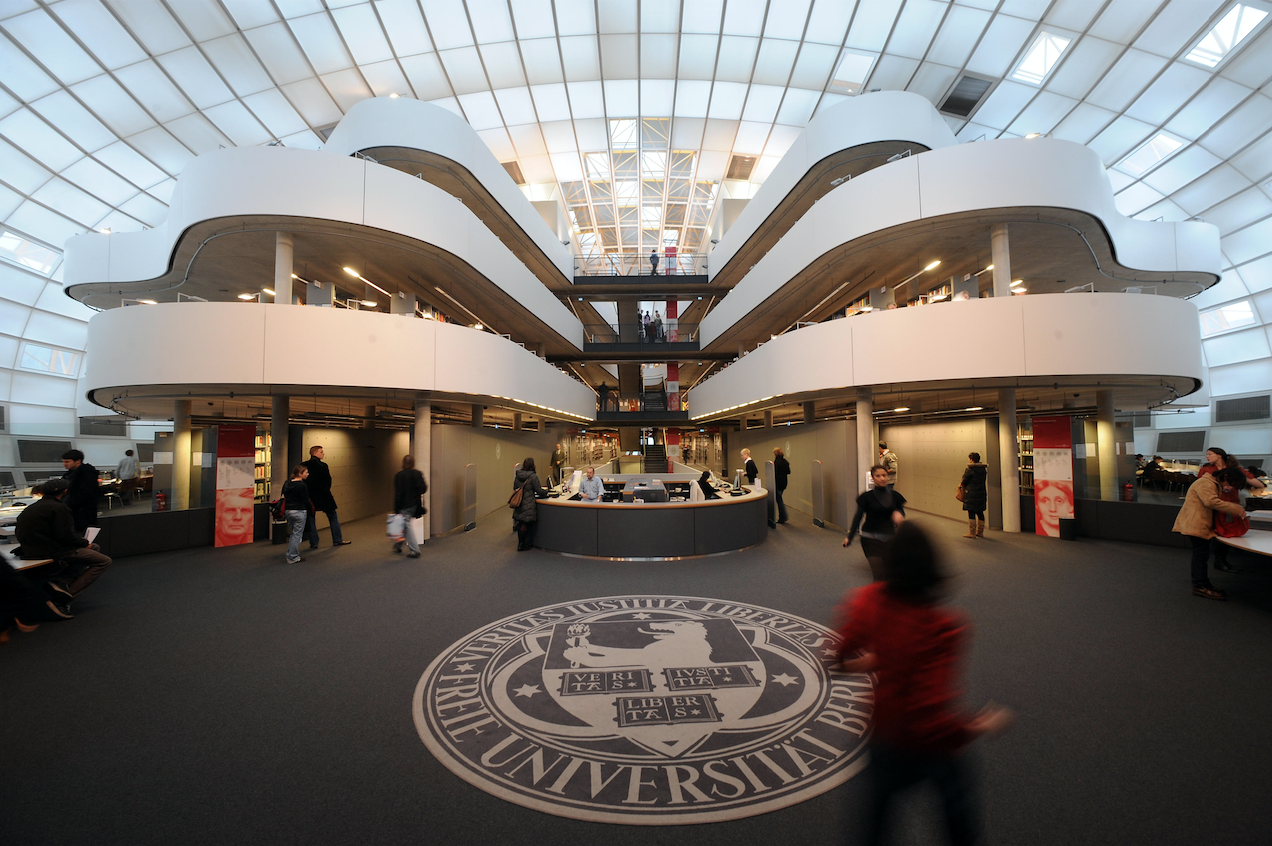 Freie Universität Berlin - David Ausserhofer_Philological Library Campus Dahlem
DAILY LIVING AND SCHEDULE
The FU Best courses take place on the Lankwitz campus while the FU block seminar electives and the BCGS German Discourse and Culture course take place on the Dahlem campus. Depending on your course schedule, you may need to travel between the two campuses. A one way trip by bus takes about 40 minutes. There is a 2-hour break between the morning and afternoon courses so you will have enough time to commute.
German language courses take place Mon-Thu 9am-12pm (intensive) or Mon+Thu 9am-12pm plus excursion every other week on Tue or Wed (semi-intensive).
Elective courses taught in English take place Mon-Thu 1:30-4pm or 4:30-7pm.
Elective courses taught in German take place Tue-Thu 2:15-5:45pm.
Part of the academic day will be spent commuting to the FU campus. Like most European universities, it is not a residential university, and its student body commutes to the campus from all over greater Berlin.
Life in Berlin
Curious about the traditional BCGS student experience? Be sure to read Student Stories on our website and check out additional student testimonials on GoOverseas.
---
Berlin is the capital city and the largest city in Germany. The city has become known for its art scene and entrepreneurial environment. Berlin is home to world renowned Universities, museums, orchestras, and entertainment venues. This city, rich in history and historical monuments, will provide endless cultural outlets for city dwellers and visitors alike.
Since the city's reunification in 1990, Berlin has been characterized by change and invention. The dichotomy between old and new provides a constant reminder of Berlin's complex history. After the fall of the Berlin wall, Berlin emerged as the cultural and economic capital city of Germany, alive with a sense of transformation and progress. A vibrant nightlife, exciting art scene, and myriad cultural venues contribute to Berlin's status as one of Europe's most cosmopolitan and sophisticated urban centers.

Visits to museums, galleries, cultural and political institutions, and historic sites and landmarks all contribute to providing a deeper understanding of Germany's past and its current role in the European Union and global affairs.
HOUSING
The FU-BEST program offers three housing options:
https://www.fu-berlin.de/en/sites/fubest/accomm/accomm_info/index.html
MEALS
Berlin is a great food destination. The high ethnic diversity of its citizens contributes to the vast variety of its restaurants and food offerings from all over the world. There is a strong movement towards organic and regional produce as well as vegetarian and vegan cuisine. Nevertheless, the famous Döner and Currywurst still have their place among the new trends. You will have easy access to your favorite food at fresh food markets, supermarkets, street vendors and on campus. At the Freie Universität, there are several cafés, cafeterias, and two major dining halls, one of which is exclusively vegetarian. In addition, there are a few private restaurants and cafés around campus. However, please be aware that there are no meals included and there is no meal plan for BCGS students.
ACTIVITIES
FU-BEST offers many activities that will help you engage with the cultural life of Berlin. The program features an elaborate set of learning supports and cultural experience activities. Participation is mandatory for some events, others are optional.
Trips & Excursions
FU-BEST organizes a series of excursions and cultural activities in and around Berlin as integral parts of the academic program. These trips are intended to offer an insider's look into Berlin and Germany, and they often provide access to people and places that you might otherwise not have.
Those who opt into the "German Discourse and Culture" course will also profit from a cultural program, including visits at museums and institutions in and around Berlin organized on a weekly basis.
Internships
If you are interested in doing an internship in Berlin, you can apply for an 8-week placement on a full-time basis (35-40 hours per week) after you complete the fall term during the months of January and February. The application process starts with a meeting by mid-September with the BCGS Resident Director to discuss the necessary steps. For the placement, BCGS partners with FU-BEST and Ayusa-Intrax GmbH, a German-American organization which arranges internships for foreign students in Germany. Internships are sought with organizations and companies in Berlin that match each student's professional and academic background, previous work experience, and career goals. Each internship placement is arranged on an individual basis.
The internship will allow you to explore an enriching academic experience in Berlin by immersing themselves in a German workplace and gaining valuable intercultural experience along with skills for their careers. All positions offered are unpaid. Upon successful completion of the internship, FU-BEST will provide documentation and award credits. BCGS does not award credits for internships. You may, however, discuss directly with your home school whether they award credits for internships.
Volunteering
Students in recent years have participated in volunteer work throughout Berlin. Opportunities have ranged from teaching to social, cultural and ecological projects. The "Freiwilligenagenturen," non-profit agencies, help to coordinate volunteer work in the Berlin districts. Examples of volunteer projects include organizing grass root activities, mentoring kids with learning disabilities, helping LGBT organizations, support refugees in thhe process of integration, and supporting homeless people.
FITNESS AND WELLNESS
There are countless possibilities to enjoy your free time in Berlin. The Freie Universität offers a vast variety of sports programs, health sports, dancing and more. To explore these visit this site. Furthermore, there are some 2,500 sports clubs in Berlin offering more intensive training in virtually any field. There are also continuing education centers, the so-called "Volkshochschulen," and music schools to learn something new or improve your skills in languages, dance, Yoga, fine arts, drums, politics and cultures, cooking, etc. While keeping you mentally fit, all of these opportunities also open up Germany society for you, allowing you to get more immersed during your time in Berlin.
Past BCGS students have spent time learning how to sail once a week on the big lakes, travelled through Germany with their rugby team, "advance-lunged" into fencing lessons, moved up to second league with their soccer team, or sung in the "Collegium Musicum," the joined universities' choir for the Queen of England. The possibilities to stay fit both mentally and physically while you are in Berlin are endless!
People
FU-BEST
Academic Director
Berlin is the perfect city from which to explore – both physically and mentally – Germany, Europe, the world, and yourself! Luckily, I was born here and I have been using it as my actual and intellectual home base ever since. I studied North American Studies and Communication Science here at Freie Universität Berlin and received my M.A. in 2002. After that, I lived in Hamburg for a year, working with the Körber Foundation for their Transatlantic Idea Contest USable. I returned to Berlin and Freie Universität Berlin to pursue my Ph.D. in History (with an American research topic), which I received in 2007. I then worked for an organization offering guided city walking tours with a historical and sociological perspective on Berlin. In 2008, I joined FUBiS (Freie Universität Berlin International Summer and Winter University), FU-BEST's short-term sister program, as Program Coordinator, and came to FU-BEST as Academic Director in 2011. This somehow merges elements of all my former jobs, interests, and fields of expertise. Plus, it is a great place to help young people become Freie Universität alumni, part-time Berliners, and explorers, too!
Program Managers
I am originally from Münster, a city in the West of Germany, but have lived in Berlin for almost nine years now and am proud to call it my home. I studied Global History at Freie Universität und Humboldt Universität Berlin. A high school year in St. Rose, USA, internships in New Orleans and Turkey, and a semester in Vancouver, Canada have provided me with first-hand experiences of studying and living abroad. I am excited to be part of the FU-BEST team and I look forward to sharing my excitement about Berlin and studying abroad with incoming students!
Born and raised in Berlin, I always shared a close bond with the United States. After acquiring my German high school diploma, I continued my fascination with the U.S. by enrolling in the BA North American Studies Program at the John-F.-Kennedy-Institute at Freie Universität Berlin. In 2008 I had the chance to spend a semester abroad at Tulane University in New Orleans. These months not only provided me with an excellent academic experience but also caused me to fall in love with this unique and multicultural city. After my return in 2009, I instantly started working for FU-BEST (and briefly for FUBiS) in order to help provide international students with the same kind of experience I had during my time abroad. In 2011 I finished my BA in North American studies with a concentration on disaster sociology and received my MA in American Studies from Humboldt-Universität zu Berlin in 2016.
BCGS
Resident Director
Responsible for program operations, development and oversight of the academic program, student affairs, and administrative and financial management.
Carmen Müller has been the Resident Director since the program's inception. A native of the Southwest of Germany, she moved to Berlin in 1988 and experienced the fall of the wall and its aftermath first-hand. As a master's degree student, she spent an academic year as a Fulbright fellow at the New School for Social Research in New York City. Dr. Müller received her Doctor of Philosophy from the John F. Kennedy Institute at the Freie Universität Berlin and is a historian specializing in 19th- and 20th- century European and German history, German-American relations, and methodology. Dr. Müller also teaches a course during the spring semester and loves the vibrant life of Berlin.
Assistant Administrative Director
Assists the Resident Director in program operations and student affairs.

Nikolaj Blocksdorf has been working with BCGS since 2012. As a genuine Berliner, he offers the students unique insights into the rich diversity of his native city. Mr. Blocksdorf is also familiar with the students' perspective of educational exchange: He stayed with a host family during his high school year in Orange County, California. Later, when studying North American Studies and Islamic Studies at the Freie Universität Berlin, he left his comfort zone to live for seven months in Damascus, Syria.
Writing Consultants
The BCGS has several writing consultants who will be available to assist the students during the German Discourse and Culture course. The consultants are German graduate students who provide support to the students in their academic work, especially in the preparation of oral presentations and written assignments.
Financial Considerations
Many students use a combination of federal student aid and home school grants to fund their undergraduate studies. Many, if not most, of these funds are applicable to studying abroad for a semester or academic year. The costs of studying abroad during the semester or academic year are frequently comparable to those of staying on campus.
All students should work with their home school financial aid office to determine what aid is available for studying abroad.
Please see below for the cost breakdowns for detailed information on all program-related expenses:
Fall 2021:
*Please Note: Tuition and fees are subject to Board of Trustee approval and may change*
Financing Your Studies in Berlin
Students may apply for the following scholarship applicable to this program:
For more information and resources on financing your time abroad, please see the pages below:
Resources for Accepted Students