Note about COVID-19: While we prepare for in-person programming during Spring 2022, please note that the program may be modified to address evolving COVID-19 health and safety guidelines. As a precaution, you are encouraged to make a back up plan in case you are unable to participate in your chosen program. If you have any questions, please make an appointment with the program adviser listed at the bottom of this page. We encourage you to stay up-to-date on your destination of interest. Columbia University students should monitor the UGE Spring 2022 Resource Page and the Covid-19 Resource Page for relevant updates about international travel, while visiting students are encouraged to check in with their home school study abroad office.
---
Explore current topics on tropical biology and sustainability in Kenya. Intimately learn from Princeton and Columbia faculty who have conducted extensive scientific research in Kenya and other parts of East Africa.
Program Overview
In partnership with Princeton University, Columbia offers a field semester abroad program in Kenya. This spring semester program is open only to Columbia, Barnard and Princeton undergraduates and focuses on Tropical Biology and Sustainability.
Through a global immersion experience, no more than 20 students have the opportunity to study biology, conservation, environmental engineering, and sustainable development in ecologically diverse and developing Kenya. While the majority of the program is based at Princeton's Mpala Research Centre in central Kenya, you will also travel across Kenya to places such as the forested slopes of Mt. Kenya, the wildlife-rich savannas of Laikipia, and the agricultural communities of western Kenya.
Eligibility and Application
Must be a Columbia/Barnard undergraduate junior in good academic standing

Minimum 3.0 cumulative GPA

1 Science class recommended

Faculty Director permission
HOW TO APPLY
Want to Apply? There is a two-part application process for this program:
Please apply directly through the Princeton website to start an official application. To do so click here.

You will also need to be cleared by Columbia and therefore, need to click "Start an Application" button at the top of this page to trigger that process and then fill out any additional supporting, required Columbia documents.
Academics
All coursework on the program is eligible to count towards the Environmental Biology Major/Concentration and most will count towards the Sustainable Development Major/Special Concentration at Columbia (reach out to the department to confirm). For more information on this please contact E3B Professor Dustin Rubenstein or the Center for Undergraduate Global Engagement.
Almost everything that semester was learned in the field; lessons were taught by conversing with locals and lectures took place outside while observing the savannah with our own eyes.

-Maia Berlow, CC'18

The University reserves the right to withdraw or modify the courses of instruction or to change the instructors as may become necessary.
SPRING 2023 COURSES
Biology of African Animals and Ecosystems (EEEB OC3920). 4 points
Instructor: Dustin Rubenstein
Dates: 01/30/23 - 2/19/23
This course offers a small group of students the unique opportunity to study the ecology, evolution, and behavior of African animals and ecosystems in one of the world's most biologically spectacular settings, the wildlife-rich savannas of Kenya. In addition to gaining sophisticated training in fieldwork, hypothesis-driven biological research, statistics, and scientific writing and presentation, the course gives participants opportunities to observe and study a diversity of plants, animals, and their interactions. Lectures include core topics in ecology and evolution with emphasis on the African animals and ecosystems that students will see in Kenya.
Terrestrial Paleoecology (EEEB OC3928). 4 points
Instructor: Kevin Uno
Dates: 2/20/23 - 3/12/23

Paleoecology (spring 2018) Draft Syllabus
Paleoecology is the study of vegetation and animals in ancient ecosystems. It is window into the past that provides insight into the relationship between evolution and environment. The paleoecology of eastern Africa sheds light on the potential role of climate in the evolution of humans. Students will learn fundamental concepts and field methods and will conduct research in modern and ancient environments. In the first half of the course, taught at Mpala Research Center, students will design and conduct research on modern bones, teeth, plants, and soils to understand how environmental and organismal information is recorded in the morphology and geochemistry of materials. The second part of the course takes place in the Turkana Basin in northern Kenya, where a rich record of human and mammalian evolution is recorded in the basin sediments. Students will learn basic geologic principles and conduct research on modern and fossil plants and animals.
Genomics in the Wild (EEEB 3927OC). 4 points
Instructor: Julien Ayroles & Sarah Kocher
Dates: 3/17/23 - 4/06/23
This course will cover genomic tools that can be used to study ecology and evolution in the field. We will use the latest sequencing technologies (Illumina and Oxford Nanopore) to study ecological communities at the Mpala Research Centre in Kenya. Together, we will design a set of studies that will use molecular barcoding to assess the composition of both animal and microbial communities. We will conduct field trips to collect target samples for our experiments, and then we will extract DNA, amplify target loci, sequence our samples in the field, and analyze the resulting data.
Natural History of Mammals (EEEB OC3924). 4 points
Instructor: Andy Gersick
Dates: 4/07/23 - 4/26/23

Natural History of Mammals (spring 2016) Draft Syllabus
This course offers an introduction to concepts, methods, and material of comparative natural history, with African mammals as focal organisms. Perspectives include morphology, identification, evolution, ecology, behavior, and conservations. Observations and experiments on a variety of species in different habitats and at a range of scales will provide insights into the adaptive value and underlying mechanistic function of mammalian adaptations. This course is based in Laikipia, but may travel to other sites across Kenya, which might include other conservancies and pastoral group ranches.
Past courses
Vector Biology (EEEB OC3926). 4 points
Malaria, trachoma, leishmaniasis and other vector ­borne diseases take a huge toll on the social and economic spheres of life in developing countries today. Any interventions that are developed from understanding the biology of vectors and the links with climate, demographic and environmental change will enable the development of more effective tools towards disease control and prevention. Through hands-on activities, students will probe issues related to biology and public health. Students will learn basic biology, including life cycles and evolutionary history of disease vectors and their impact on humans and livestock. They will gain experience in designing, conducting, presenting and evaluating studies concerning current applied questions in the Laikipia region, eastern Africa/Greater Horn of Africa and the broader developing world.
Sustainable Development in Practice (EEEB OC3925). 4 Points
Students will study the theory and practical application of sustainable development, touching on urban and rural issues in Kenya and Uganda. Students begin with an emersion at Kisumu's completed Millennium Village. Students will then spend time studying agriculture, education, infrastructure, water, and health issues in the village of Moroto in Uganda to understand the need for an integrated approach to sustainable development. Discussions with communities, field work, practical problem solving, GIS tools, e-tools, modeling, and understanding of the local constraints will form the foundation for this course.
Water, Energy, and Ecosystems (EEEB OC3922). 4 Points
This course will provide an introduction to the principles of hydrological sciences and their application to ecology, with a focus on instrumentation methods for characterizing surface, subsurface, and biological hydrological dynamics in field settings. Lectures and field activities will address the theories of operation, design, and implementation of methods used to quantify hydrological patterns and processes with emphasis on characterizing the biological signature and ecological impact of landscape hydrological dynamics. Emphasis will be placed on applications of hydrological science to issues of sustainable landscape use, water resource conservation, and prevention/reversal of land degradation in dryland ecosystems.
Agriculture and the Environment (EEEB OC3921). 4 points
Students will compare productivity, diversity, and ecological processes in the diverse farming systems of Kenya, which include highland and lowland, large and small-scale systems, monoculture cereal crops, mixed farming with crops and livestock, pastoral systems, diverse tree crop systems from plantations to multispecies agroforests, and intensive horticulture. Students spend their time in Kenya learning state of the art techniques for characterizing soils, agricultural landscapes, and ecosystem services. They will use these methods across the range of farming systems to develop projects comparing various aspects of these systems, and explore sustainability issues from the ecological, agricultural, and livelihood disciplines.
Ecology and Conservation of African Landscapes (EEEB OC3923). 4 points
Instructor: Rob Pringle and Paula Kahumbu

Ecology and Conservation Part 1 (spring 2018) Draft Syllabus
Only six percent of Africa's land is protected, and these areas are rarely large enough to sustain wildlife populations. Mostly, wildlife must share land with people who also face survival challenges. This course will explore how wildlife and people interact in Kenya, where new approaches to conservation are being developed and implemented. Lectures will cover the ecology of tropical grasslands and first principles underlying conservation and management of these landscapes. Field trips and projects will examine the dynamics between human actions and biodiversity conservation.
Academic Schedule
The program is structured differently than most other study-abroad programs. Over the 12 week program, you will enroll in 4 field courses that take place for 3 weeks at a time. Unlike the typical university setting, this structure provides you with the unique opportunity to focus on one course at a time. Each course builds from the next, applying concepts, skills, and techniques learned earlier in the semester. Students must complete all four modules in order to receive credit for the program, and all modules take place fully in Kenya.
Grades and Transcripts
Grading Policy
Click here for the Columbia Semester/Academic Year program grading policies.
Please note that students on the Columbia in Kenya program are not allowed to take any course for P/D/F or R.
Transcripts
Columbia students: Grades appear on SSOL and your transcript as semester grades from courses taken at Columbia. For more information, please see the section on Academic Credit in Steps to Study Abroad.
Barnard students: Grades appear on eBear and your transcript as any semester grades from courses taken at Barnard. For more information, please see the section on Credit and Transcripts for Barnard Students on our Barnard student pages.
Life in Kenya
Housing
Each course has different housing arrangements – tents, campsites or dormitory rooms at Mpala. When students are away from Mpala, they stay in rooms in hotels or other field stations.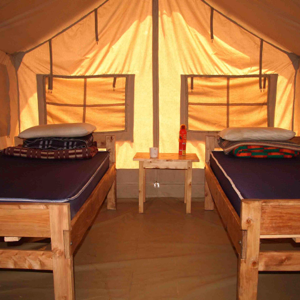 While at Mpala, students mostly live in a permanently tented camp with large safari-style shared tents. They are located about a mile from the Research Center near the Ewaso Ngiro River. The Ewaso Ngiro River is beautiful, and thorn scrub acacia dominates this red soil (well drained) habitat. Large yellow thorn acacias surround the area, providing shade. Wildlife is all around, including a diversity of birds, elephants, and hippos. Please note that students are not allowed to swim in the river, and the site is secured by an electric fence.
The camp tents have wooden beds and mattresses. All bedding, pillows, and towels are provided. Bathroom facilities include sinks with running water, bucket showers (with clean borehole hot water) and flush toilets. Students should bring their own shampoo, but individual bars of soap are provided. Camp staff provide tent cleaning and laundry is done daily by the camp staff.
For some courses, students will be housed in dorms at the Research Centre.
Meals
While at Mpala, the group assembles for meals and lectures in a large dining tent. Meals are prepared by Mpala cooks who have much experience with groups of visiting students. Vegetarian dishes are provided at all meals, but vegetarians are relatively rare in Kenya and the diversity of options will be somewhat lower than what vegetarian students may be used to. In general, past participants have commented that the Mpala food was far better than they had expected it to be, and much better than dining halls on campus. Drinking water is boiled, purified rain water that is safe to drink. Hot tea and coffee are available in the dining tent at all times.
Activities
During the 3 day Spring Break between modules two and three, students have the option of hiking Mount Kenya with a professional guide.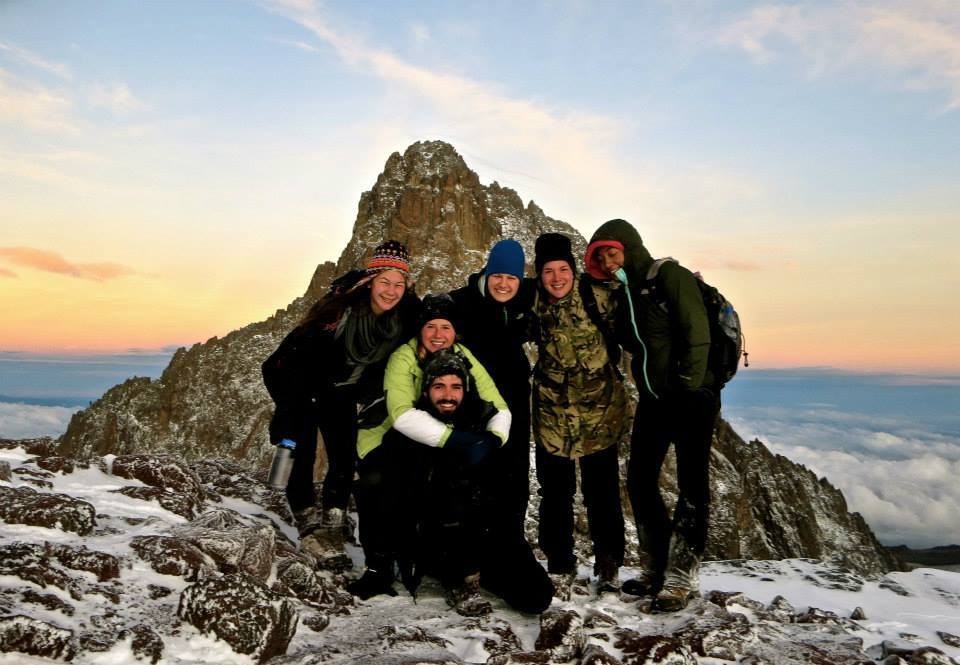 While it an intense experience, the programs strives to maximize the benefit of student time in Kenya by packing in as many activities as possible. Students should come to Kenya prepared to be engaged and enthusiastic throughout the course, even when at times you might be tired, hungry, or dirty. While students find the program challenging, they also find the experience incredibly rewarding and fun.
On some Sundays there are also opportunities for students to participate in community focused activities.
Daily Living and Schedule
Each course is a three week module, where students spend over 12 hours per day immersed in field biology for six days a week. Students have one full day off per week (typically Sundays).
Most days consist of waking up around 7:00 am and leaving for fieldwork after breakfast. The group breaks for lunch around 1:00 pm. There are often guest lectures and meetings in the early afternoon. The group heads back to the field in the mid afternoon and returns for dinner around 6:00 pm. At night, students often sit around the campfire in discussion, go for a night drive in search of nocturnal animals, or spend time on homework. Bedtime falls between 10:00-11:00 PM.
For certain courses, students will travel to other parts of Kenya to explore other ecosystems and communities. Students travel together with faculty and program staff to each location. They travel in 9-passenger minivan-type vehicles with a top that rises up so that they can stand and look at wildlife from the vehicles.
LOCATION
The program is based at the Mpala Research Centre (MRC) in central Kenya. It lies 45 kilometers from the base of Mt. Kenya in the Laikipia district near the town of Nanyuki, roughly 4 hours from Nairobi. Mpala is a large property of almost 50,000 acres with extensive research facilities and labs used by resident and visiting researchers, along with the full infrastructure (internet, fax, phone) needed to support a large research and visiting scientist community in a remote location. Trustee institutions of Mpala include Princeton University, the Smithsonian Institution, the Kenya Wildlife Service, and the National Museums of Kenya. Laikipia district is home to many large scale cattle farms and private game reserves. Wildlife and cattle mix peacefully, and now that many ranches have been converted to game reserves, all wildlife is thriving in the area, including many endangered species like wild dogs, Grevy's zebras, and rhino.
People
Faculty
Dan Rubenstein (Princeton Director and Professor of Natural History of African Mammals) is Princeton's Class of 1877 Professor of Zoology. He is a professor of Ecology and Evolutionary Biology as well as Director of the Program in African Studies. Professor Rubenstein received his PhD in Zoology from Duke University in 1977. He received his BS in Zoology in 1972 from University of Michigan. He also holds an MA, awarded in 1980, in Sociobiology from the University of Cambridge, and an MA, received in 2004, in Behavioral Ecology from the University of Oxford. Professor Rubenstein's research focuses on decision-making in animals, searching for general principles that inspire complex patterns of behavior. His most recent research has centered on equids – horses, zebras, and asses. He is considered one of the leading experts in research pertaining to zebras.
Dustin Rubenstein (Columbia Director and Professor of Biology of African Mammals) is an Associate Professor of Ecology, Evolution and Environmental Biology at Columbia University in New York City. At Columbia, he is Director of the Center for Integrative Animal Behavior, and Chair of the University Seminar in the Integrative Study of Animal Behavior. He is also the Director of the Program in Tropical Biology and Sustainability. Additionally, he is on the Faculty in the Program of Neurobiology and Behavior, and teaches in Frontiers of Science, part of Columbia's undergraduate Core Curriculum. He received his A.B. from Dartmouth College in 1999, and his Ph.D. from Cornell University in 2006 as a Howard Hughes Medical Institute Predoctoral Fellow in the Biological Sciences. His research takes an integrative approach to understand why complex animal societies form and how organisms cope with environmental change through studies that combine behavior, ecology, and evolution with those of the underlying molecular and neuroendocrine mechanisms. He has studied a variety of organisms, including birds, crustaceans, reptiles, and insects throughout Africa, Asia, Central and South America, and the Caribbean.
Paula Kahumbu (Professor of Ecology and Conservation of African Landscapes) is a well-known Wildlife Conservationist who grew up in Kenya. Dr. Kahumbu received a PhD in Ecology and Evolutionary Biology from Princeton University in 2002 where she conducted field research on elephants in Kenya. She is currently the Chief Executive Officer of the Kenyan Conservation NGO Wildlife Direct (www.wildlifedirect.org) – a platform to support conservationists on the ground in Africa via blogs, videos, diaries, photographs, podcasts, and other online resources. She is also leading the Hands Off Our Elephants Campaign with Kenya's First Lady Margaret Kenyatta.
Dino Martins (Executive Director of Mpala Research Centre and Professor of Vector Biology) is a Kenyan entomologist and evolutionary biologist. He is currently the Executive Director of the Mpala Research Centre and a Research Scholar and Lecturer in Ecology and Evolutionary Biology at Princeton University. He holds a PhD from the Department of Organismic and Evolutionary Biology at Harvard University (2011), and a BA in Anthropology (with distinction) from Indiana University (1999). Dr. Martins' current scientific research is focused on the evolution and ecology of interactions between species: including insects and plants, vectors and hosts and parasites.
Rob Pringle (Professor of Ecology and Conservation of African Landscapes) is an Assistant Professor at Princeton in the Ecology and Evolutionary Biology Department. His research examines various facets of ecology and conservation. The end goal is to understand how wild ecosystems work by looking specifically at their modular components and emergent properties. The majority of his work has taken place in African savannas, but he has also conducted research on small Caribbean islands. He graduated from the University of Pennsylvania in 2001, received an MSc in Economic and Social History from Oxford in 2003 as well as an MSc in Environmental Change and Management from Oxford in 2004. In 2009, he completed his PhD in Biological Sciences from Stanford.
Kevin Uno (Professor of Terrestrial Paleoecology) is a Lamont Assistant Research Professor at the Lamont-Doherty Earth Observatory. He focuses on Biology and Paleo Environment. His primary research interest is in reconstructing ancient terrestrial ecosystems using light stable isotopes (H, C, N, & O) and other geochemical tools. He also employs these tools to study modern ecosystems in East Africa. He graduated from Carleton College in 2001, received an Ms from the University of Utah in 2008 and a PhD from the University of Utah in 2012 through the Department of Geology and Geophysics.
Hear from the Columbia Faculty Director
Global Columbia

Collaboratory

All participants in spring 2021 programs will have access to the Global Columbia Collaboratory, a non-credit virtual exchange experience that helps students learn more about global challenges, enhance their global competencies by connecting and cooperating across a global network, and empower students to make a difference in the world as global citizens. In the Collaboratory, students can engage with fellow students and the broader Columbia network to:
Participate in regularly scheduled theme-based global seminars from faculty and experts drawn from Columbia's global networks;

Exchange perspectives and engage together in reflection on the global challenges framed by the global seminars; and

Engage in collaboration and ideation on projects and ideas that impact today's society.
Financial Considerations
Many students use a combination of federal student aid and home school grants to fund their undergraduate studies. Many, if not most, of these funds are applicable to studying abroad for a semester or academic year. The costs of studying abroad during the semester or academic year are frequently comparable to those of staying on campus.
All students should work with their home school financial aid office to determine what aid is available for studying abroad.
Please see the cost breakdowns for detailed information on all program-related expenses for Spring 2022.
Spring 2023
WITHDRAWAL & REFUND POLICY
If you decide to withdraw from the program after confirming your participation, please be aware of the financial consequences and the office policies by clicking here.
Financing Your Studies in Kenya
For more information and resources on financing your time abroad, please see the pages below:
Find Out More
Speak to an Adviser: Want to learn more? Make an appointment to talk with Karyn, the adviser for this program! You can also email her with any questions, or to arrange a meeting if you are unable to make the listed times.
Speak to a Peer Adviser: Want to hear more about the student experience on Columbia in Kenya? You can email Carolyn Friedman CC'21 or get to know our other Peer Advisers who are eager to share their study abroad advice with you!
Resources for Accepted Students