Gain firsthand experience of the language, culture, and customs that drive the economic development of the world's most populated nation. This nine-week program combines intensive study of Chinese for business purposes with a practical language practicum in a local or multinational business.
Program Overview
During the first month of the program, you will attend an intensive business Chinese language course that focuses on the specialized vocabulary, jargon, linguistic styles, and appropriate behaviors used in a professional setting. You are also introduced to different industries through articles and case studies. Private tutorials with language instructors provide a chance to focus on individual language needs. To prepare for the language practicum placement, you will develop a Chinese resume, practice interviewing skills, and participate in interviews with local organizations.
It was a great feeling to be able to speak with such fluency about topics I found important and to see a lot of interesting aspects of China's developing economy as well. We visited a kaifaqu, or economic development zone, where we saw the planning for future businesses, homes, and offices in a technology-based development zone. It was fascinating to tour the area, meet with development leaders, and get to hear the business pitch of the development zone leaders.

-Neha Jain SEAS'17
During the final four weeks of the program, you will be placed with a local or multinational company for the language practicum. This component offers an invaluable opportunity to apply your formal learning of business Chinese in context. Depending on the placement, you may attend meetings, assist in projects, translate, research, or observe how the Chinese do business. On a daily basis, you are also expected to complete academic assignments related to their practicum. Students meet weekly with their language instructors to discuss linguistic and cultural interactions related to their practicum. As final term projects, you will write an analytical account in Chinese about your practicum and give an oral presentation in Chinese to instructors, company supervisors and fellow students.
Between the business Chinese course and the language practicum, students can explore China by traveling independently during a one-week break.
Eligibility and Application
Must be a currently enrolled undergraduate student in good academic and disciplinary standing. Graduate students and post-graduates may also apply.
Must have two years of college-level Chinese or the equivalent
Minimum 3.0 average language GPA
Minimum 3.0 cumulative GPA
The host university (Peking University) does not allow applications from Chinese citizens
How to Apply
Want to apply? Click the "Start Your Application" button above. If the button doesn't appear above, the program is not yet accepting applications. You will be asked to set up a short profile, which will allow us to send you relevant information about your application. Once you've created a profile, you will see a checklist of items that you will need to submit. These generally include:
Application questionnaire(s)
Letter(s) of recommendation
Official transcript(s)
Academics
Chinese Language Courses
Based on your application, you are provisionally placed in one of the courses below. Final placement occurs in Beijing after students take a placement test.

The program organizes students to take the national Business Chinese Test. If successful, students may also receive a certificate from China's National Language Center.

Note: The University reserves the right to withdraw or modify the courses of instruction or to change the instructors as may become necessary.

Chinese 3014 OC. Third Year Business Chinese and Practicum. 8 points.
Prerequisite: Two years of college-level Chinese or the equivalent
This course is designed to help students who have studied at least two years of Chinese (or the equivalent) to achieve greater proficiency in the oral and written use of the language. The emphasis will be on the specialized vocabulary, jargon, linguistic styles, and appropriate behaviors used in a professional setting. The purpose is to develop students' natural flow of the spoken language, expand vocabulary and produce written paragraph-length Chinese.

Chinese 4023 OC. Fourth Year Business Chinese and Practicum. 8 points.
Prerequisite: At least three years of college-level Chinese or the equivalent
This course is designed to help students who have studied at least three years of Chinese (or the equivalent) to achieve greater proficiency in the oral and written use of the language. Working with real case studies of international and Chinese companies within the Chinese marketplace, students will gain insight into Chinese business practices, develop cultural awareness, and get a feel for the excitement and challenge of working in today's global business world. Student will critically examine the successes and failures of firms within the Chinese business arena. Topics of wide interest such as international marketing and trade, finance, management strategy, business politics, and business ethics will be addressed.
Language Practicum
During the final four weeks of the program, you will spend at least 30 hours a week at your language practicum which is a placement at a local or multinational company. To prepare for this experience, students develop a Chinese resume, practice interviewing skills, and participate in interviews with local organizations during the first half of the program.
Language practicum placements will be organized in conjunction with Peking University's Career Center and Alumni Office. Placements will be finalized in Beijing, so we ask you to remain flexible about the type of company with which you may be placed. Student responsibilities will vary depending on the needs of the company but generally include: translation, research, data collection, observing meetings, preparing reports, etc.
A Chinese instructor is assigned to each site to supervise and help students, answering any questions and resolving issues on a daily basis. Students are required to do workbook assignments every day Monday through Friday during the practicum period. You are required to meet with language course instructors for one hour classes on Saturdays during the four week practicum period.
Grades and transcripts
Grading Policy
Click here for the Columbia summer program grading policies.
Transcripts
No credit is granted to students who do not complete the full program.
All courses taken on the program are converted to an American grading scale and transmitted to students as follows:
Columbia students: Grades appear on SSOL and your transcript as semester grades from courses taken at Columbia. For more information, please see the section on Academic Credit in Steps to Study Abroad.
Barnard students: Grades appear on eBear and your transcript as any semester grades from courses taken at Barnard. For more information, please see the section on Credit and Transcripts for Barnard Students on our Barnard student pages.
Non-Columbia students: can request electronic transcripts online through the Columbia University registrar.
Life in Beijing
Housing
You will live in a shared suite in Peking University's Global Village student dormitory with another program participant or an international student studying at PKU. You will have your own bedroom but will share a bathroom with your suite mate. Each suite includes bed sheets, desks, air conditioning, a telephone, TV and internet access. There are no kitchens or cooking facilities in the dorm. The Global Village is a 10 minute walk to the classroom building.
Meals
Most meals are not included in the program fee. You should plan to bring between $5-$10 a day to cover the cost of your meals and bottled water. You will be issued a Peking University student ID which can be used as a meal card to be used in the dining halls on campus. The cafeterias have a wide range of food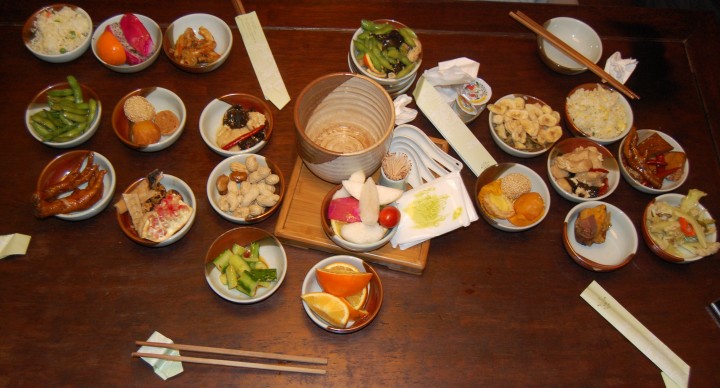 and are quite inexpensive, about $1 per meal. If you choose to eat out, a meal at a local restaurant is not very expensive either. Places that cater to foreigners and offer western foods tend to be more expensive where prices can be similar to those in the U.S. If you think you will frequent these types of places often, you should plan to budget more money for food.
Activities
The program will include several group trips to historic and cultural sites including: Tiananmen Square and the Forbidden City, the Great Wall, the Temple of Heaven, Pearl Market, the Summer Palace, a Chinese acrobatic show (Chaoyang Theater) and a Peking Opera show (Huguang Theater).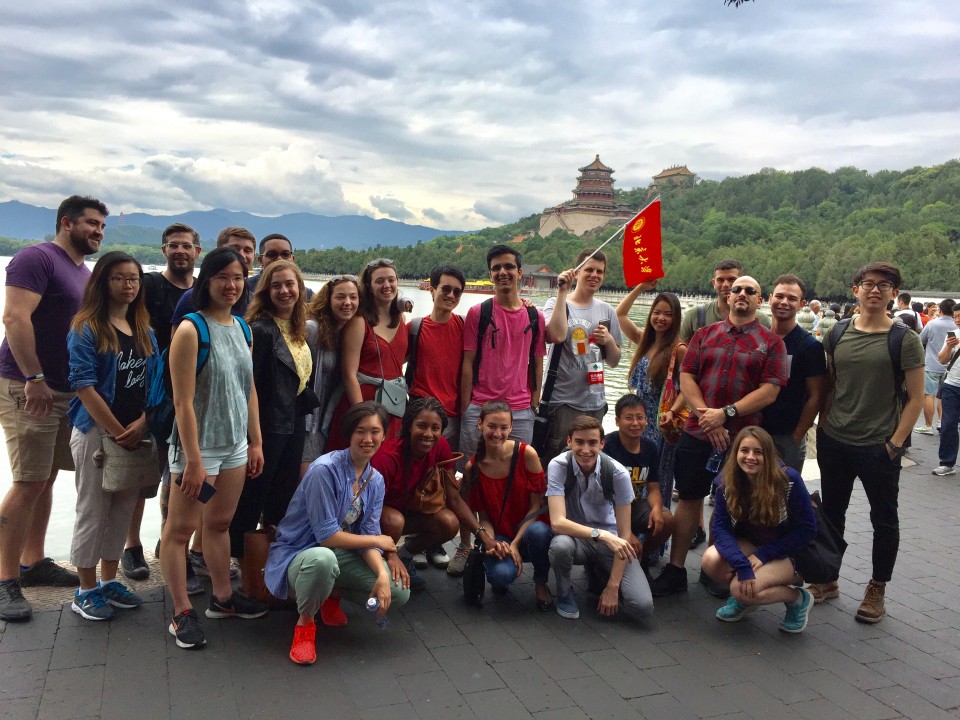 You will be matched with a language partner (local university student) to help you practice your Chinese outside of the classroom. Taking the initiative to spend time with your partner in a relaxed, out of class setting will also give you the opportunity to gain perspectives on what to see and do while in Beijing.
In past years, program students have participated with other university students in a speech competition and an end-of-program talent show.
Depending on student interest, workshops in taijiquan, Chinese calligraphy, Chinese traditional music, and Chinese dance may be available. Local experts are invited to speak about contemporary topics such as the Chinese economy and doing business in China. When possible, young local alumni are invited to speak with the group so they can learn more about how what it is like to actually live and work in China.
Daily Living and Schedule
During the first four weeks of the program, language classes meet Monday through Friday from 8:00 am to 12:00 pm. You will have a break for lunch at noon where you can eat at an on-campus canteen (cafeteria). In the afternoons, students have private tutorials with their instructors for an hour and a half.
Outside of class, you have the option to meet with language partners who are local university students. Spending time with a local peer in a relaxed, out of class setting will give you the opportunity to gain perspectives on what to see and do while in Beijing.

Cultural and social events are often scheduled at night during the week, and cultural excursions take place on Saturdays.
Location
The program is based at Peking University (PKU). Founded in 1898, PKU (commonly known as "Beida") is one of the most prestigious and selective universities in China. It was the first national university covering comprehensive disciplines in China, and has been a leading institution of higher education in China since its establishment. The campus, known as "Yan Yuan" (the garden of Yan), is situated at Haidian District in the western suburb of Beijing. It is located near the Yuanmingyuan Garden and the Summer Palace. Peking University is proud of its outstanding faculty, brilliant students, and open and diversified atmosphere. It has fostered extensive linkages with more than 260 universities and research institutions all over the globe.
People
Zhirong Wang serves as the Faculty Director of the program. She received her B.A. in Chinese Language and Literature from Peking University, and her Ph.D. in Chinese Language from the University of Wisconsin-Madison. She joined Columbia University in 1996 and has taught courses ranging from Elementary Chinese to Advanced Chinese. She is the author of several Chinese textbooks including Renwen Tianxia: Advanced Chinese for Humanities (Beijing Language and Culture University Press); An Elementary Chinese Reader (Beijing University Press); A Primer for Advanced Beginners of Chinese (co-author, Columbia University Press).

Under the supervision of Columbia faculty, local university instructors will also teach some components of the Chinese language courses.
A Program Assistant will be hired locally for the program to support students with daily life.
Financial Considerations
Program Costs
Program Fee Summer 2019: Includes tuition, housing, course excursions, group dinners, orientation and cultural activities.
Please see our cost breakdown for detailed information on additional estimated expenses.
Tuition and fees are subject to Board of Trustees approval and may change.
FINANCIAL AID AND SCHOLARSHIPS
Funding Your Summer in Beijing
Eligible students may apply for the following scholarships applicable to this program:
Guanghua Scholarship
This scholarship is designed to give Columbia and non-Columbia students the opportunity to pursue intensive Chinese language study, engage with Chinese local students and the culture, and gain valuable international experience. Scholarships (ranging from $1000-$5000) will be awarded to a select number of students (up to 10) who demonstrate financial need. The awards will help defray the cost of the program tuition.
You will find the application here once the program fee has been set. If you have started an application for this program, you will receive an email notifying you the scholarship application has been posted.
Freeman Awards for Study in Asia
Created to assist U.S. undergraduate students (U.S. citizens or permanent residents only) with demonstrated financial need and limited prior experience in East and Southeast Asia, Freeman-ASIA applicants are eligible to apply for awards of up to $3,000 per student for summer study.
---
Columbia students may also be eligible to apply for the following scholarships:
Columbia University's WEAI offers funding for research, language acquisition, unpaid internships, and dissertation write-up during the summer and academic year to selected Columbia students committed to professional and academic engagement with East and Southeast Asia. Eligibility varies depending on the particular funding opportunity.
The Summer Language Fellowship for International Students supports international Ph.D. students (who are not permanent residents) in the humanities and social sciences at Columbia who need to study a foreign language (applies to all languages) abroad during the summer. The fellowship award maximum is $3,000. Students can apply online and should contact gsas-finaid@columbia.edu with questions.
---
For more general information and resources on financing your time abroad, please see the pages below:
Withdrawal policy
If you decide to withdraw from the program once it has already started, please be aware of the financial consequences and the office policies by clicking here.
Resources for Accepted Students
---