This Columbia-led program was last offered in person during Summer 2019. Program offerings may change from year to year including modality, location, courses, faculty, and schedule. Check the UGE website in November 2021 for updated summer 2022 program information or meet with the program's adviser to discuss your plans.
---
Study firsthand the dynamics of civilizational contact, exchange, and conflict in the the Americas with Columbia faculty. This intensive summer experience will allow students to consider the long-term effects of colonization and decolonization in a direct and impactful way by visiting sites of historical and architectural significance in Mexico City and the region, while studying core disciplinary texts in the classroom.
Program Overview
Take a required course for the major or concentration in the Study of Ethnicity and Race in 5 weeks
Enhance your reading of core disciplinary texts with related field trips and lectures by intellectuals in Mexico
Live in one of the world's most exciting and historic cities with your Columbia peers
Spend one week of instruction and site visits in Oaxaca, a UNESCO World Heritage Site known for its historical pre-colonial and colonial significance, rich indigenous culture, and gastronomy
Earn 4 points of Columbia credit
The course can be counted as a seminar in History and Anthropology, and will also fulfill a Global Core requirement
Eligibility and Application
Currently enrolled undergraduate, graduate, and post-graduate students of Columbia University and Barnard College may apply
Interested students from other universities should contact the Program Adviser for more information
All students must meet the basic requirements for studying abroad: a 3.0 cumulative GPA and good academic and disciplinary standing in their home school
Preference given to CSER majors/concentrators and advanced undergraduates with a demonstrated interest in the topic
Although knowledge of Spanish is not required, some study of the language may be useful for students living in Mexico City
HOW TO APPLY
Want to apply? Click the "Start Your Application" button above. If the button doesn't appear above, the program is not yet accepting applications. You will be asked to set up a short profile, which will allow us to send you relevant information about your application. Once you've created a profile, you will see a checklist of items that you will need to submit. These generally include:
Application questionnaire(s)
Letter(s) of recommendation
NOTE: This program may include an interview process for admission.
Academics
Note: The University reserves the right to withdraw or modify the courses of instruction or to change the instructors as may become necessary.
CSER W3928: Colonization and Decolonization in the Making of the Modern World. 4 points
This undergraduate seminar examines the processes of colonization and decolonization that define the making of a modern, integrated world (c. 1500 to the present). "Colonization" may refer to any process by which an entity (plant, animal, human society) transfers and establishes itself in an area of a different character. Human societies have migrated and colonized new areas throughout human history, at times to previously uninhabited areas and at times adjoining, displacing or subordinating existing populations. Throughout human history colonization has meant the spread and exchange of cultures, the development of trade networks, war, and the construction and decline of empires.
In this course we focus on the spread of European influence and hegemony throughout the world from the age of discovery in the late fifteenth and sixteenth century to the era of decolonization after World War II and postcolonial realities of the present. We are interested in the processes and contents of social and cultural contact and exchange, the development of knowledge, and how they shape relations of power; the place of colonialism in the development of western capitalism; and the elements of colonial power and resistance, including ideologies of liberal political philosophy, social Darwinism, and nationalism. We will think about how ideas about civilization, religion, self and other, and freedom have evolved over time and shaped the making of the modern world. Class is held as a discussion seminar based on close reading of the primary-source documents.
This course fulfills a global core requirement as well as concentration requirement for the Center for the study of Ethnicity and Race (CSER). The course can also be counted as a seminar in History or Anthropology.
Academic Schedule
Classes take place on Tuesdays and Thursdays from 10:00 am-1:00 pm at the Carso Center for the Study of Mexican History, a cultural institution dedicated to the research and preservation of Mexican historical documents.
The class will relocate to the city of Oaxaca from June 18-22. While in Oaxaca, classes will be held at the Centro de Investigaciones y Estudios Superiores en Antropología Social (CIESAS), a Columbia University partner institution.
Life in Mexico City
Housing
You will live in shared apartments or a hostel near where the class will be held in Coyoacan, a former village now incorporated into the historic core of Mexico City.
Coyoacán is one of the 16 boroughs (delegaciones) of Mexico City as well as the former village which is now the borough's "historic center." The name comes from Nahuatl and most likely means "place of coyotes," when the Aztecs named a pre-Hispanic village on the southern shore of Lake Texcoco which was dominated by the Tepanec people. Against Aztec domination, these people welcomed Hernán Cortés and the Spanish, who used the area as a headquarters during the Spanish conquest of the Aztec Empire and made it the first capital of New Spain between 1521 and 1523. The village, later municipality, of Coyoacan remained completely independent of Mexico City through the colonial period into the 19th century. In 1857, the area was incorporated into the Federal District when this district was expanded. In 1928, the borough was created when the Federal District was divided into sixteen boroughs. The urban sprawl of Mexico City reached the borough in the mid 20th century, turning farms, former lakes and forests into developed areas, but many of the former villages have kept their original layouts, plazas and narrow streets and have conserved structures built from the 16th to the early 20th centuries. This has made the borough of Coyoacán, especially its historic center, a popular place to visit.
Meals
No meals are included and there is no meal plan. However, there are grocery stores and markets in the area of where you will be living. Coyoacan has many markets, restaurants and cafes. Casual dining in Mexico City is generally quite inexpensive.
There are several online guides that give information about where to eat in Mexico City. We recommend taking the time to do some research beforehand if you are unsure about what to expect.
Activities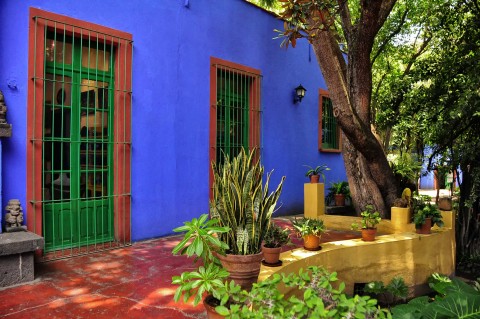 Class activities in Mexico City include guest lectures with Mexican academics and visits to the
Trotski
and
Frida Kahlo
Museums, the
Mexico Library
, and the
National Library
. Extra-curricular activities in Mexico City include attending the Mexican Folkloric Ballet in the world-renowned
Palacio de Bellas Artes.
Class activities in Oaxaca visits to the Santo Domingo Church and Botanical Garden, the Monte Albán museum, the convents of Coixtlahuaca and Yanhuitlán, Students are also expected to participate in extra-curricular activities that include a welcome dinner, a guided tour of Mercado de La Merced, a cooking class led by a local chef, and a swimming excursion at Hierve el Agua.
Most class activities will be on class days and some Fridays. Other days are left free for you to explore independently.
Daily Living and Schedule
The Carso Center, where the classes are held, is in Chilamistac, which is located about 15 minutes from Coyoacán by car (with no traffic) and 30 minutes by metro or bus. Students may decide to share an Uber with friends.
Location
Host Institution
Established in 1974, the
Centro de Investigación y Docencia Económicas (CIDE)
is a public institution and one of Mexico's most important centers of teaching and research for the social sciences. Recognized nationally and internationally, CIDE produces creative, methodologically sound, interdisciplinary research designed to advance scientific knowledge and improve decision-making. Both as a teaching and research center, CIDE is a point of reference in the national academic debate and a key factor in efforts to improve public policy.
CIDE is a small, diverse institution of approximately 400 domestic and international students. It offers undergraduate degrees in economics, law, political science and international relations, and public policy. CIDE also offers masters and doctoral degrees. Most of the academic staff earned their advanced degrees from U.S. universities.
The facilities at the institution include a library, gymnasium, cafeteria, and health services. As a student at CIDE, you will have access to all facilities with your CIDE identification card.
People
The course will be taught by Professor Claudio Lomnitz. Professor Lomnitz is one of the original authors of the course and has taught it many times.

Claudio Lomnitz is Campbell Family Professor of Anthropology, is a distinguished scholar of Mexico and Latin America. He received his PhD from Stanford in 1987 and taught at NYU, the University of Chicago, and the New School before joining the Columbia faculty in 2006. He is currently Director of the Center for Mexican Studies in the Institute for Latin American Studies, and a core faculty member of the Center for the Study of Ethnicity and Race, where he was director from 2006-2009. His research and writing focuses on the history, politics and culture of Latin America, and particularly of Mexico. He is author of Evolución de una sociedad rural (Mexico City, 1982); several books which deal with the history of public culture in Mexico, Exits from the Labyrinth: Culture and Ideology in Mexican National Space (California, 1992), Modernidad Indiana (Mexico City, 1999) and Deep Mexico, Silent Mexico: An Anthropology of Nationalism (Minnesota, 2001). His book, Death and the Idea of Mexico (Zone Books, 2005), is a political and cultural history of death in Mexico from the 16th to the 21st centuries. His most recent book The Return of Comrade Ricardo Flores Magón (Zone Books, 2014) is about exile, ideology and revolution. He most recently taught Colonization-Decolonization in spring 2016 in Mexico City.
Teresa Aguayo is assistant director of the Center for the Study of Ethnicity and Race, Associate Curator of Gallery at the Center and interim Director of Administration and Finance in the department of Sociology. Her main roles at CSER include advising students, managing faculty affairs, projects and grants, and directing academic and public programming, curricular development and financial operations. She c0-created the Summer Program on Indigenous Studies, and coordinated the creation of the Nahuatl Program and the expansion of the native language consortium between Columbia, Yale and NYU, and the establishment of the O'Gorman Program for Mexican Scholars at the Institute of Latin American Studies. Recently, she has been involved in promoting the study of Mexican studies at Columbia University under the direction of Professor Lomnitz and the Center for Mexican Studies. A part of this endeavor Teresa has worked together with students, faculty and the Center for Undergraduate Global Engagement to develop the study abroad program in Mexico City.
Financial Considerations
Program Fee Summer 2019: $6,700
Includes tuition, housing, and course-required excursions.
Please see our cost breakdown for detailed information on additional estimated expense
FINANCIAL AID AND SCHOLARSHIPS
If you are on financial aid, check to see if it can be applied to studying abroad. In general summer financial aid is not available to Columbia College or Columbia Engineering students, but may be available to School of General Studies students. Non-Columbia students should check with their home schools for funding availability.
Funding Your Summer in Mexico City
CSER Summer Grant (towards tuition)
The Center for the Study of Ethnicity and Race provides Columbia University students majoring in CSER the opportunity to apply for partial to full tuition to participate in this program. Grant applications will be made available to students upon request. Please email the program adviser to check your eligibility for the CSER Summer grant.
For general information and resources on financing your time abroad, please see the pages below:
WITHDRAWAL POLICY
If you decide to withdraw from the program once it has already started, please be aware of the financial consequences and the office policies by clicking here.
Resources for Accepted Students