UGE continues to plan for the return of Summer 2021 study abroad programs, in case the Columbia travel suspension is lifted and it is determined that it is safe to resume program operations abroad. Please sign up to receive program updates including when applications will be available.
---
This four-week summer 2021 program, based at the Pontifícia Universidade Católica (PUC-Rio) in Rio de Janeiro, offers intensive training in Portuguese at the Intermediate level. Through the program's excursions and Community Involvement Project, you will be immersed into the local community which will allow you to gain insight into both historical and contemporary Brazil and to improve your language proficiency.
Program Overview
All students enroll in Comprehensive Intermediate Portuguese, which covers the equivalent of a full year of Intermediate Portuguese. The course and its accompanying Community Involvement Project, program excursions, and lecture series are designed to maximize your Portuguese language fluency and to enhance your understanding of this Brazilian life and culture.
Eligibility and Application
Currently enrolled undergraduate students in good academic and disciplinary standing

Graduate students and post-graduates are all eligible to apply

Minimum 3.0 cumulative GPA

Minimum 3.0 average language GPA

Student must have completed Elementary Portuguese for Spanish-Speakers, or Elementary Portuguese II, or the equivalent
How to apply
Want to apply? Click the "Start Your Application" button at the top of this page.If the button doesn't appear, the program is not yet accepting applications. You will be asked to set up a short profile, which will allow us to send you relevant information about your application. Once you've created a profile, you will see a checklist of items that you will need to submit. These generally include:
Application questionnaire(s)

Personal statement

Letter of recommendation

from someone who has recently taught you Portuguese

Official transcript(s)
---
Academics
The University reserves the right to withdraw or modify the courses of instruction or to change the instructors as may become necessary.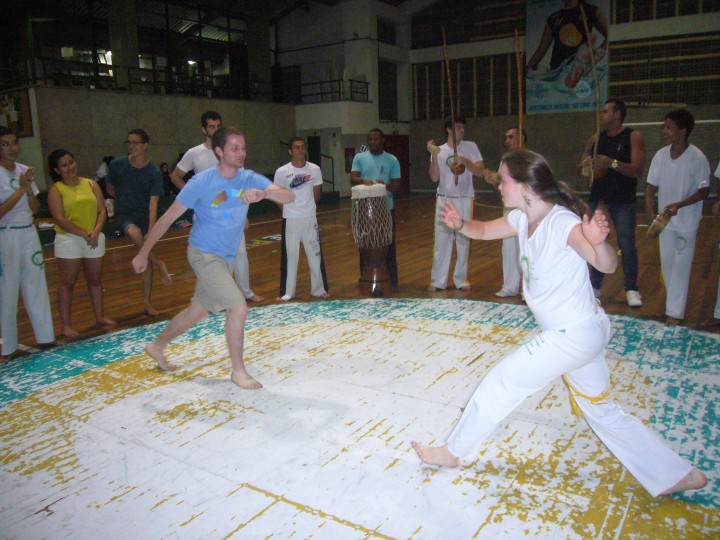 PORT W1220x. Comprehensive Intermediate Portuguese. 4 points
Prerequisites: Elementary Portuguese for Spanish-Speakers, or Elementary Portuguese II, or the equivalent
Instructor: Jose Antonio Castellanos-Pazos and PUC-Rio faculty
This course will foster intensive practice in reading and composition based on short literary and journalistic texts. Discussions will focus on contemporary issues based on articles from Lusophone newspapers and magazines. Students will review grammar, expand their vocabulary and improve oral expression, writing and reading skills. Students will also be exposed to audio-visual material that will deepen their understanding of Lusophone societies and culture.
Community Involvement Project (CIP)

As part of the language program, you participate in a Community Involvement Project which will engage with the local Carioca community through dance classes, capoeira classes, or volunteer work with a local non-profit or business. You have the opportunity to try all three CIP options at the beginning of the program. After doing so, you will select one CIP option to continue for the rest of your time in Rio de Janeiro.
Academic Schedule
Class is held Monday-Friday from 9:45 a.m. – 1 p.m. The first half of each class session will focus on learning Portuguese with the latter half delving in Brazilian culture.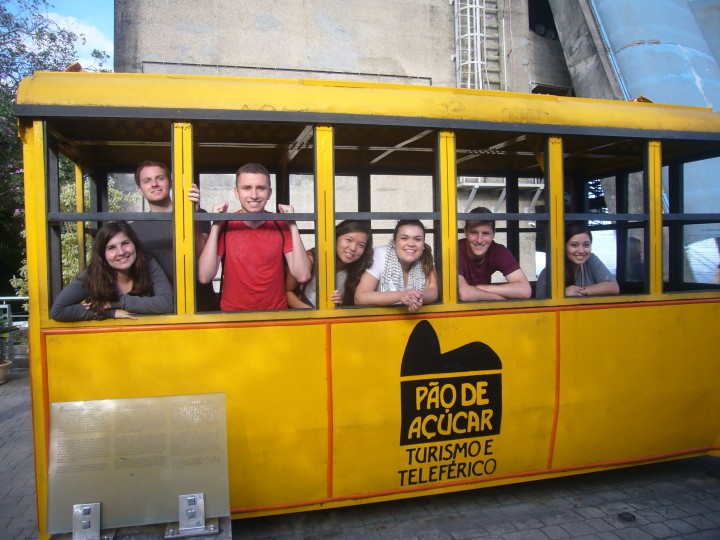 In-classroom learning is complemented by course-related excursions, guest lectures, and cultural activities that take place in the afternoon several days a week. As part of the immersion portion of the program, students participate in a Community Involvement Project. The CIP takes place once or twice a week in the late afternoon and evening. The days and times your CIP occurs will depend on the CIP you select.

Due to the intensive nature of the course and the number of excursions outside of class, students should not plan any weekend travel in advance. Please note that attendance at all classes and related activities is mandatory.
Grades and Transcripts
Upon successful completion of the program, grades are entered into Columbia's online grading system.

No credit is granted to students who do not complete the full program.
All courses taken on the program are converted to an American grading scale and transmitted to students as follows:
Columbia students: Grades appear on SSOL and your transcript as semester grades from courses taken at Columbia. For more information, please see the section on Academic Creditin Steps to Study Abroad.
Barnard students: Grades appear on eBear and your transcript as any semester grades from courses taken at Barnard. For more information, please see the section on Credit and Transcripts for Barnard Students on our Barnard student pages.
Non-Columbia students: can request electronic transcripts online through the Columbia University registrar.
Life in Rio de Janeiro
Housing
All students will be placed into a home stay with a local host family to encourage cultural and linguistic immersion. The home stay placements are located near to PUC-Rio campus. Students will be have their own room, unless they request to room with another person on the program.
Meals
Students are responsible for their own meals. You can cook for yourself or eat in the many local restaurants, bars, and cafes in your neighborhood. Rio de Janeiro boasts a vibrant culinary scene and many choose to eat out, taking advantage of the diverse food options available at all budgets.

PUC-Rio has several student cafeterias, offering lunch options at varying prices. Following class, many students on the program frequent the cost-friendly PUC-Rio cafeterias for lunch.
Activities
The program includes numerous course-related excursions, guest lectures, and cultural activities that will help you practice your Portuguese and deepen your understanding of Carioca and Brazilian culture. Past activities have included a city tour of Sugar Loaf, Christ the Redeemer and the Selaron Steps, cooking classes, and lectures on Brazilian music and a walking tour. Students are encouraged to take advantage of the many opportunities available to them and to explore Rio de Janeiro on their own.
Daily Living and Schedule
This program has a full schedule and students should expect to spend most of their time in Rio de Janeiro to partake in the program and its complementary activities. In their free time, students are encouraged to explore all the city has to offer and to travel on the weekends, if they so choose.
Location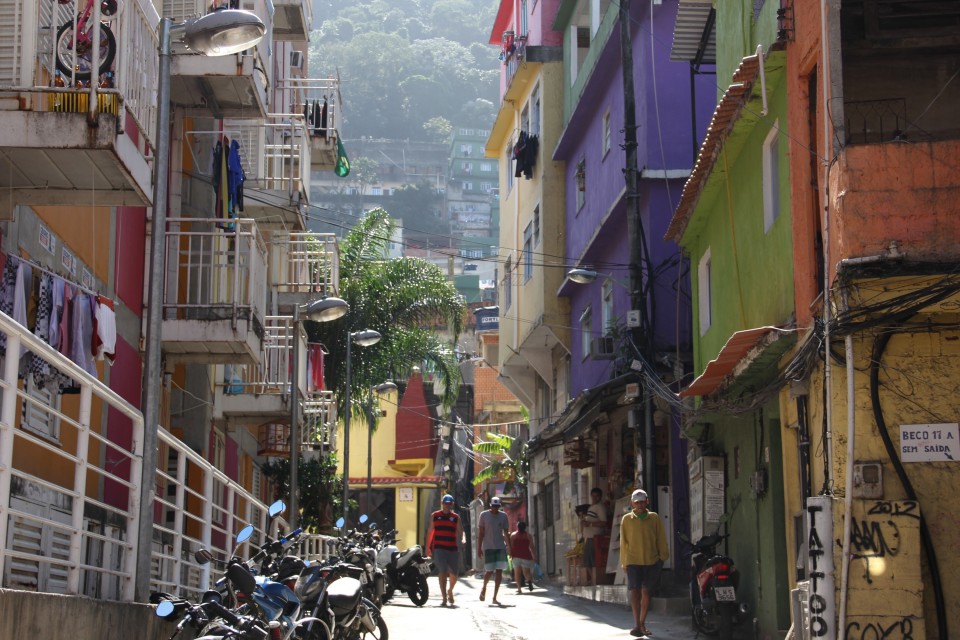 With a population of over 6 million people spread across a landscape of sweeping bays punctuated by lush, swooping mountains, Rio de Janeiro is one of Latin America's most vibrant and beautiful cities. Cariocas, as Rio's denizens are called, are proud of their city's natural beauty, rich artistic & cultural heritage, and the dynamism of Brazil's current trajectory on the world stage. Cariocas, like many Brazilians, have immigrant roots from across the globe-European, African, Latin American, Asian, mixed together to form a culture uniquely Brazilian. One can't neatly sum up the essence of Rio-it is a place of contrasts and parallel lives: from futebol to Carnival, from the beaches of Copacabana to the heights of Corcovado, from the poverty of the comunidades to the designer shops of Ipanema, Rio is a city of diverse neighborhoods, packed with cheek-to-jowl social contrasts.
Pontifícia Universidad Católica do Rio de Janiero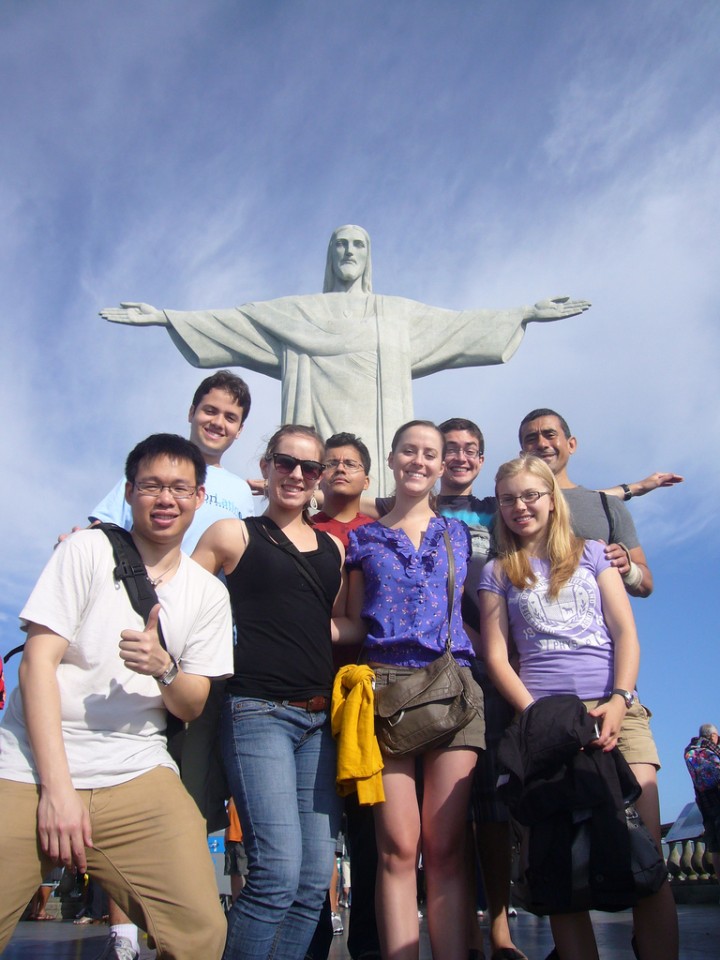 Pontifícia Universidade Católica do Rio de Janiero (PUC-Rio), pronounced 'pookie', is a wooded campus located in the Gavea district of Rio de Janeiro. PUC-Rio was the first private institution of higher learning in Brazil and is regarded as one of the country's best universities. The university has more than 12,000 undergraduate students and is comprised of 23 departments, all of which fall into one of three centers: the Center of Social Sciences, the Center of Theology and Human Sciences and the Technical-Scientific Center.
There are numerous on-campus facilities, including cafés and cafeterias, libraries, computer labs, as well as copy centers and other useful shops. It is well served by the local bus system, though many local students choose to bike there. While summer session is quite common in the U.S., most Brazilian students will be away for their winter break. However, there will be numerous other international students at PUC-Rio while you are there.
People
José Antonio Castellanos-Pazos (Program Director, Instructor for Comprehensive Intermediate Portuguese)
José Antonio has been a lecturer in Spanish and Portuguese since 1998. At Columbia he has taught Spanish and Portuguese language courses. His main interest is teaching Portuguese to speakers of other Romance languages, mainly Spanish. For the past twenty years he has been developing materials for the teaching of Portuguese for Spanish Speakers. He received his M.A. in Latin American Literature from SUNY at Albany in 1995 and his M.Phil. from NYU in 2005, with a proposal for a dissertation on the rhetoric of the secret in the fiction of Mexican writers associated with the Revista Moderna at the end of the 19th century.

The language course will by taught by Columbia and PUC-Rio faculty.
Financial Considerations
Program fee Summer 2019: $7000
Includes tuition, housing, local transportation, and course-required excursions.

Please see our cost breakdown for detailed information on additional estimated expenses.
Financial Aid and Scholarships
If you are on financial aid, check to see if it can be applied to studying abroad. In general, summer financial aid is not available to Columbia College or Columbia Engineering students, but may be available to School of General Studies students. Non-Columbia students should check with their home schools for funding availability.
Funding Your Summer in Rio de Janeiro
For more general information and resources on financing your time abroad, please see the pages below:
WITHDRAWAL POLICY
If you decide to withdraw from the program once it has already started, please be aware of the financial consequences and the office policies by clicking here.
Resources for Accepted Students