Spend a semester or the full academic year drawing upon the resources of one of the world's most fabled and beloved capitals. Take one-of-a-kind courses, pursue individual research, and master the French language. Immerse yourself in the city's rich history and multi-cultural fabric. Find your passion and lose yourself in the City of Light.
Overall I felt my experience was incredible, unforgettable, eye-opening, and transformative -- Fall 2018 participant
Program Overview
The program encourages you to challenge yourself both academically and personally. Immersing yourself in the French language through your coursework and daily life, you will push yourself beyond your comfort zone and expand your ways of thinking. By the end of the semester or year, you will find yourself more confident in your role as a global citizen, capable of living, working, and affecting change beyond your national boundaries.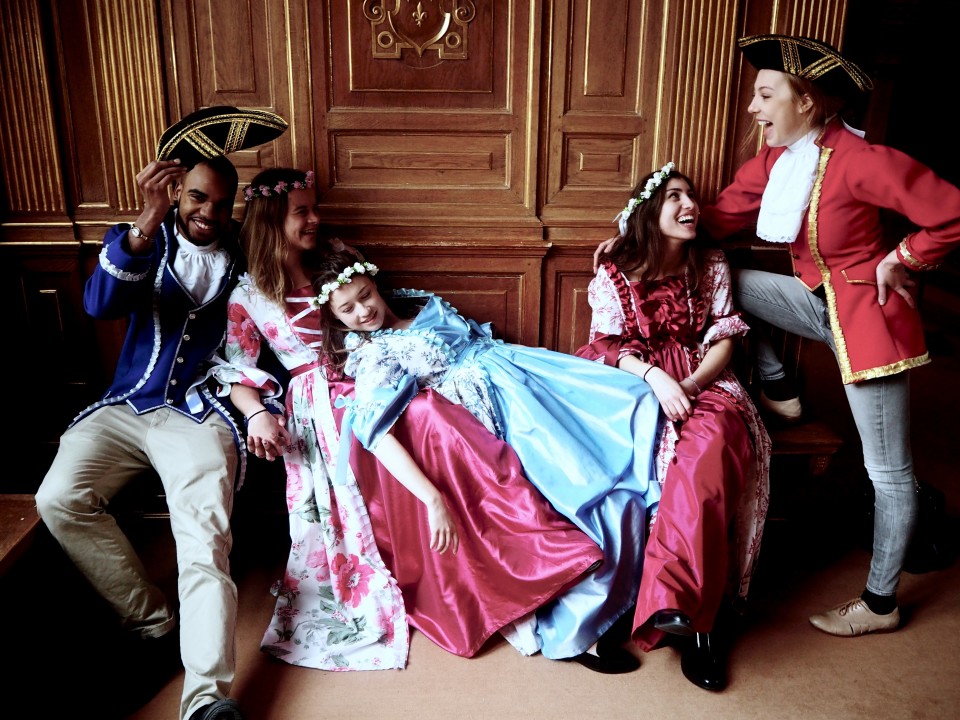 Depending on your goals and interests, you will choose from a broad range of options in the humanities, sciences, and social sciences. You will take at least one required language course at Reid Hall and select the rest of your courses from Columbia in Paris electives. The program provides academic support and mentoring throughout the program to support you in making the most of your time in Paris.
All coursework (except for Art Humanities or Music Humanities) is in French. French university faculty teach the elective courses at Reid Fall and are committed to undergraduate teaching in a small seminar setting to encourage in-class discussion and debate.
This was one of the loveliest experiences ever. I've changed so much for the better and I don't want to leave! -- Fall 2018 participant
A highlight of the program is the opportunity to engage with local resources. Past students have conducted research in archives with primary materials, engaged with local experts, artists, and writers on important contemporary issues, and participated in academic conferences.
This is a wonderful program, run by wonderful people! Organized, enriching, attentive to the well-being of students. It really is structured with us in mind...It really does give a whole experience -- academics and living in Paris -- Fall 2018 participant
Columbia students may be able to fulfill Core requirements while abroad by enrolling in either Art or Music Humanities, along with a Global Core class.
Spring 2022 Program Updates
Here you will find information and links to resources about how COVID-19 might impact your upcoming study abroad experience so that you can remain informed as the situation evolves. Please note that these planning protocols as well as policies may be modified at any time prior to your departure or while you are in-country.
Eligibility and Application
Must be a currently enrolled undergraduate student and in good academic and disciplinary standing. Students from universities and colleges other than Columbia are welcome to apply.
Must have completed at least four semesters of college-level French or the equivalent.
It is expected that you will be enrolled in a French language course in the term preceding your enrollment in Paris. Grammar, composition, or literature courses will better prepare you for a semester in Paris than conversation courses. Failure to continue French language training may affect acceptance to the program
Students looking to take local university courses should have studied at least 5 semesters of college-level French or the equivalent.
Minimum 3.0 average language GPA
Minimum 3.0 cumulative GPA
How to apply
Want to apply? Click the "Start Your Application" button at the top of this page. If the button doesn't appear above, the program is not yet accepting applications. You will be asked to set up a short profile, which will allow us to send you relevant information about your application. Once you've created a profile, you will see a checklist of items that you will need to submit. These generally include:
Application questionnaire(s)
Personal statement
Letter of recommendation from someone who has recently taught you French
Home school approval/clearance
Application fee (if applicable)
Academics
Depending on your French proficiency at the start of the program, you will be required to take either one or two language courses in addition to three to four electives. Those electives include: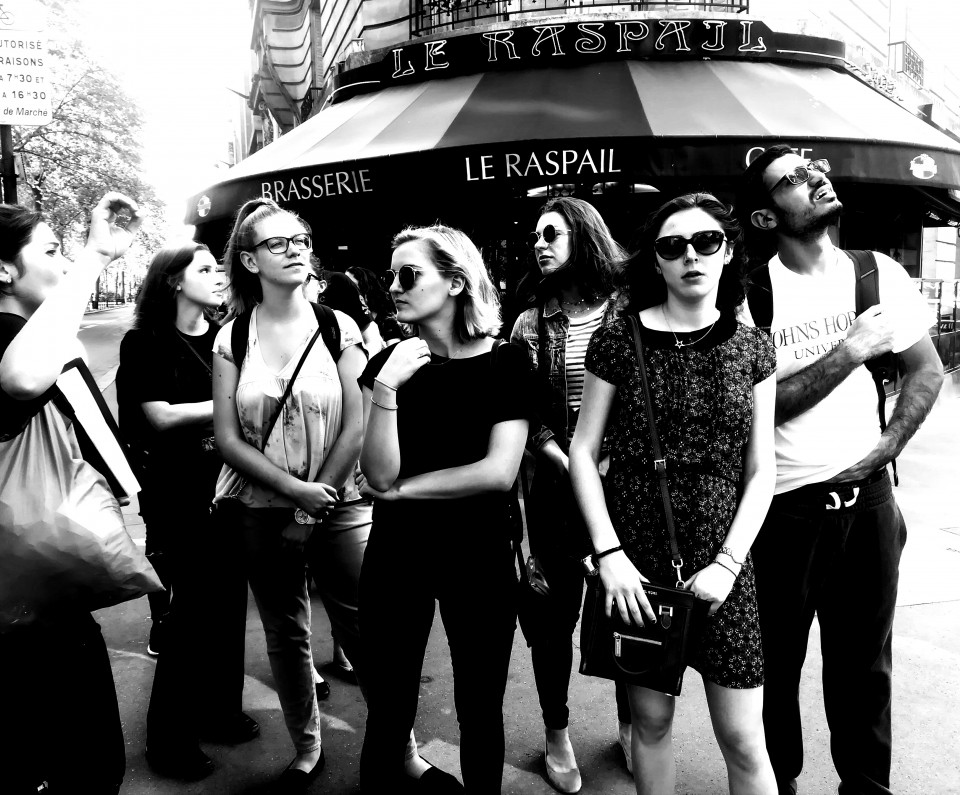 Specially-developed courses, taught exclusively for the program, that draw on the rich urban fabric of the city.
The opportunity to conduct a Directed Research project base on your personal specialization and interests, under the guidance of leading thinkers and scholars in your discipline.
Columbia Core courses, including Art Humanities, Music Humanities, and Reid-Hall-specific Global Core courses.
Courses at local universities are very limited for Fall 2022 and will be subject to special approval.
For information on recent courses, please see the Paris-based Columbia in Paris program website.
The University reserves the right to withdraw or modify the courses of instruction or to change the instructors as may become necessary.
French Language Curriculum
French is the main language of interaction at Reid Hall and engagement with the language is a foundation of the program. You will receive robust support as you develop your linguistic abilities through specialized instruction, individual tutoring, and connections to outside resources.
Based on the results of a language assessment during the orientation, you will take part in either one or two language courses. Both courses are designed to help you succeed in your academic work in French.
Academic Writing. (3 points)
This intensive course is mandatory for every student as it introduces them to some of the major differences between French and American ways of approaching academic analysis and production. Course content varies with the level.
Language Practicum. (3 points)
This course, taken by students who place into Level I or II, is a language course at the intermediate and upper intermediate level. Its aims is to sharpen students' linguistic skills to prepare them for their life in France as a student. It meets twice a week for five hours over 12 weeks and finishes before final work for other classes becomes due. Course content varies in each level.
Test de Connaissance du Francais (TCF)
At the end of their language curriculum, students take a standardized French Language exam called Test de Connaissance du Français (TCF). This test, similar to TOEFL, and recognized in 39 countries, enables students interested in returning to France for post-graduate work (professional or academic) to demonstrate their French language ability.
Content (non-Language) courses
Once you know which French language courses you are taking, you will select your remaining courses from the options below. For more information on current semester courses and scheduling, please visit the Paris-based Columbia Undergraduate Programs in Paris site.
Program Courses
Taught by French faculty in French, these courses have been specifically designed for the program to actively engage students with local resources. Typically, writers, government leaders, and scholars are invited as guest speakers in class, and several courses are taught on-site in museums or around monuments, using the Parisian cityscape as an extension of classroom learning. Courses may include an academic conference or film screening in which faculty and students are invited to engage with a larger audience open to the public. For recent courses and descriptions please see the local Columbia in Paris website.
AHIS3682OC. Issues in Nineteenth Century Art. 3 points.
Instructor: Nicolas Baudouin
In this course, we will focus on a key artistic period that is full of upheavals. We will particularly consider the affirmation of the individuality of the artist in relation to the institutions and great pictorial movements that have marked the history of French painting of that time.
---
FREN3330OC: Paris Noir/Black Paris. 3 points.
Instructor: Stéphanie Bérard
This course aims to unveil a lesser known face of Paris linked to its colonial past in order to reread the present social, political and cultural landscape of France's capital city. By visiting the hotspots of a forgotten Parisian black history, students will learn about the legacy of a colonial past often unknown and neglected. Sites will include the Latin Quarter which saw the birth of Negritude movement in the 1930s with the encounter of African and Caribbean intellectuals (Césaire, Senghor, Damas) and the foundation of the editions Présence Africaine with Alioune Diop; Saint Germain des Prés and Pigalle which celebrated jazz music in cabarets; the Museum of the history of immigration in Porte Dorée and the Musée des Arts Premiers at the Quai Branly. This itinerant historical approach of Paris will be complemented by an exploration of the contemporary cultural and artistic politics of the Black stage as possible in the summer. The reading and analysis of literary and cinematographic works will allow students to tackle social, political and racial issues, and explore further the global dimension of today's diasporic and multicultural France.
This course is approved as a Global Core at Columbia.
---
CLFR3821OC: City Diplomacy. 3 points.
Instructor: Lorenzo Kihlgren Grandi
Based on a comparative and interdisciplinary approach, the city diplomacy course is designed to offer a general introduction to the international role of cities. Through an innovative approach cutting across the boundaries of traditional disciplines (international relations, urban sociology, area studies, history, geography), the course will combine the emerging scholarly literature with a comparative accent linked to the analysis of primary sources from cities and international actors from all regions of the world. As a result, students will learn to connect global and regional macro-dynamics with micro-transformations at the local level, while gaining an in-depth understanding of city diplomacy's core features, management, tangible impact, and evolution.
This course is approved as a Global Core at Columbia.
---
FRST3994OC History of Contemporary French Cinema (1990-2018). 3 points.
Instructor: Fabien Delmas
"French cinema is characterized by its artistic richness, its vigor and, above all, its diversity. This film history course will function as a journey in which we explore contemporary French cinema. Our itinerary will take us from the 1990s, those of "young French cinema" and neoclassicism, to the end of the 2010s, those of directors like Julie Delpy and Christophe Honoré. Together, we will develop a panorama in which the works of Cédric Klapisch and Nicole Garcia will intersect, as well as those of Céline Sciamma and Arnaud Desplechin.

The objective of this course will be to introduce students to French cinema, its history and its diversity. We will also have the chance to correlate academic knowledge and practical experience, so as to give the students a significant idea of French film activity. While the course is open to all, a small group of students may apply to go to the Cannes Film Festival, which takes place after the program ends. The application process is competitive and will take place onsite in February. On this excursion, students will be able to attend screenings and film meetings. To prepare for this event, a module of the course will be devoted to the festival, its history and how this global event has reflected, over the decades, the mutations and evolution of cinematographic art. This trip is all the more important as the Cannes Film Festival has always been connected with the great movements that have fueled, animated and invigorated French cinema.
---
FREN3719OC: Revolutions, Wars and Genocides: Violence by and against Women. 3 points.
Instructor: Christelle Taraud
The question of violence - a central paradigm for analyzing and understanding the ambivalences, paradoxes, and tensions of our contemporary societies - will be questioned in contexts of specific gender, class and racial power relations: those of revolution(s), war(s) and genocide(s) between the 19th century to the present in Europe, Asia, America and Africa. However, although the course focuses on situations of extreme violence against women in times of conflict, (in class we will refer to Diana Russel's 1990 concept of "feminicide"), this course also intends to place women in an epistemological and political continuum: that of the "banality" of physical, psychological and sexual violence of everyday life. Yet, while women are undeniably victims of violence, the course will also demonstrate that there, as elsewhere, they are neither "inert" nor "passive". Indeed, violence will not only refer to the violence suffered by women but will also concern the violence produced by them. Multiple examples taken from contemporary history will demonstrate this last point (e.g. fighting figures such as Amazons, Pétroleuses - female supporters of the Paris Commune, accused of burning down much of the city during the last days of the Revolution in May 1871 -, women terrorists / suicide bombers / jihadists, women soldiers, anti-colonialist and / or anti-imperialist revolutionary activists).
In addition, using concepts of agency and empowerment, students will rethink the question of these "women in arms" allowing them to interrogate central notions of gender studies such as gender binarity, the fixity of female identity, the "virilization" of women, gynophobia…, in many historical and current contexts where male domination is proven. Through these reflections, students will question the central link between combat (revolutionary or conventional) and women's emancipation / liberation. It is, however, in this dynamic between suffered violence and produced violence that lies the heart of the course. Indeed, throughout history, violence of women - which is still globally undiscussed and remains a minority field in academic and scientific discourse - was a way to control, monitor and punish women. This can be seen in the paradigmatic example of the French Revolution, at the end of the 18th century, with which we will begin our investigations and reflections.
This course is approved as a Global Core at Columbia.
---
HSPS3240OC. Political Life in France. 3 points
Instructor: Cedric de Bellaing
The main objective of the course is to offer a global perspective on French political life by recalling its history and analyzing its dominant current characteristics. After presenting the basics of the French political system - including institutions, political trends and major institutional issues - this course will address the themes that structure French political life. Particular attention will be paid to social issues that influence French policy, as well as to major changes impacting the environment in which new political issues appear (Europe, national identity, secularism, social inequalities, ecology and terrorism). The presentation and analysis of these various themes will permit students to fully benefit from the series of lectures intended to deepen certain major aspects of what we will be studying. Various academic guest speakers will also provide the opportunity for students to expand on the knowledge acquired in class as well as to witness diverging perspectives that will lead to lively debates and critical thinking.
---
FRST3994OC. Urban History. 3 points.
Instructor: Jean-Michel Dequeker
The course offers the chance to discover Paris both chronologically and spatially. It is about understanding how Paris has developed and transformed since Antiquity. We will explore how its neighborhoods and their identities have been shaped, as well as how the social and cultural geography of the city took shape. The course is set up in a way that most of the classes will be held in various neighborhoods around the city.
---
FRST3994OC​. History, Memory and Representations: 20th Century Wars in France. 3 points.
Instructor: Julien Blanc
This course aims to analyze the different wars in which France was involved during the "dark 20th century". From the "Tranchées" of World War I to the end of the Algerian war, through the disaster of June 1940 and the German occupation, we are going to study the most dramatic events of French contemporary history. Based on different types of documents (articles, speeches, diaries, paintings, literature, memoirs and several movies), the course will explore the political choices and behaviors of the population, the social and cultural fields (what war changes?) as well as questions of memories and representations, with a special focus on films.
---
FREN3036BC. The Age of Enlightenment. 3 points.
Pre-requisite: Open to Barnard College or Columbia University students only
Instructor: Séverine C. Martin-Hartenstein
Dans ce cours, nous examinerons le phénomène qui domine—et révolutionne—le discours philosophique, religieux, sociologique et politique au 18e siècle en Occident: les Lumières. Visant les dogmes jusque-là incontestables d'un Etat monarchique et d'une Église catholique autoritaires, ce mouvement réclame la liberté de la pensée et du culte; condamne l'intolérance religieuse, l'iniquité politique et le préjugé culturel; expose et déplore l'inégalité sociale; examine les bases de l'autorité politique; et subvertit par ses propos l'idéo. A l'exception d'un texte de l'Allemand Immanuel Kant, nous nous bornerons à lire des écrits des principaux philosophes francophones des Lumières (Voltaire, Diderot, et Rousseau), aussi bien que deux romans "dystopiques" (Charrière et de Sade), et deux textes politiques parus durant la Révolution française.
Directed Research Option - 4 Points
One of the highlights of on the Columbia in Paris program is undertaking a Directed Research Project. Highly-motivated students who enjoy working independently will find this option challenging and rewarding. Under the supervision of a French scholar, they will explore a specific topic in depth and acquire both the methodological and analytical skills necessary for advanced academic research. Students may also decide to do a translation or creative writing project. Students meet with their mentor weekly and complete a mémoire – a research paper of at least 25 pages. Students conduct research in French but may elect to write their final mémoire in English
French University Courses (Limited options for Spring 2022, Fall 2022)
All students have the opportunity to take courses at an affiliated French university. As with any American university, there will be course offerings in many different disciplines. Students will decide which university best suits their academic interests before leaving for Paris. However, during orientation, students will work with their Columbia in Paris adviser to select specific courses. In most cases, your major or concentration department will need to review the courses to determine if they will be accepted as credit towards your degree.
Columbia University works with the following universities in Paris:
University of Paris I (Panthéon Sorbonne): The University of Paris I is a leading research and education institution in France, which ranks among the best 100 universities worldwide. It is known for having strong departments in art history and archeology, history, law and philosophy.
University of Paris IV (Sorbonne): Located in the heart of the Latin Quarter, the University of Paris IV - Sorbonne is the oldest university in France and one of the first universities in the world. Characterized by a rich culture and tradition, it is especially renowned for its excellent academic programs in literature, languages, arts, and the humanities.
University of Paris VII (Denis Diderot): Paris VII is the only multidisciplinary university in Paris to offer a wide range of courses in the humanities, medicine and science. In 2007, its administration and departments relocated on the South banks of the Seine, near the Bibliothèque Nationale de France. The new campus attracts hundreds of international students each year and houses the most extensive university library in Paris.
Visual Arts at Paris I Panthéon-Sorbonne: Visual Arts majors at Columbia can apply to study studio arts at Paris I Panthéon-Sorbonne. This option allows students to participate in the Columbia in Paris program and take a studio art courses in the l'UFR des Arts Plastiques et Sciences de l'Art de Paris 1.
Academic Support
All students work with academic advisers who oversee their progress throughout the semester and assist with academic aspects of the program.
In addition, students enrolled in French university courses will be assigned both linguistic and methodological tutors so that they may achieve their highest level of work. Tutors are active academics in the field and an invaluable resource for students intellectual and academic development.
GRADES AND TRANSCRIPTS
All courses taken on the program are converted to an American grading scale and transmitted to students as follows:
Columbia students: Grades appear on SSOL and your transcript any semester grades from courses taken at Columbia. For more information, please see the section on Academic Credit in Steps to Study Abroad.
Barnard students: Grades appear on eBear and your transcript as any semester grades from courses taken at Barnard. For more information, please see the section on Credit and Transcripts for Barnard Students on our Barnard student pages.
University of Pennsylvania students: The program sends grades directly to Penn for direct posting on the Penn transcript. Please review Penn's guidelines on grades and credit.
Non-Columbia students: Grades are entered into Columbia's system and you will need to request a transcript to obtain your final grades. Please see the section on Credit and Transcripts for Non-Columbia Students on the Non-Columbia student pages.
Life in Paris
Your daily life in Paris will be made up of moments, equally beautiful and challenging, that will help you construct your overall experience. The program will empower you with the tools to confront the myth of the city as it is commonly perceived and transform you into an active participant of its dynamic, multi-cultural life. Through immersive homestays and activities with local students and scholars, Columbia in Paris will invite you to explore the city in all of its fascinating contradictions and experience it in a way most can only dream of – as a real Parisian.
Housing
The most popular option for students wishing to deepen their experience with Parisian life is to live with a local family in a homestay, while students who want more independence can opt for a dorm room.
Homestays
A highlight of this program is the opportunity to live with a francophone family, giving you
the chance to live like a true Parisian, off the beaten tourist path. Homestays are located throughout Paris and the nearby suburbs and never more than a short train ride from Reid Hall. You will have your own room and share common spaces with your host family and may elect to share meals with them. Sharing meals in France is not only an excellent opportunity to practice your language skills but the chance to partake in an essential part of French culture. About 85% of program students choose to live with a host family to experience firsthand the daily rhythm of French life, learn about Paris from an insider's perspective, and be immersed in a French-speaking environment.
French Student Residences
You can also choose to live in a dorm in Paris. This is different than the residential dorm experience at a college in the United States, offering greater independence and fewer amenities. Some residence halls may offer a limited meal plan.
Meals
Meals are typically not included in the program fee, unless you have chosen to eat with your host family or will live in a dorm that provides a partial plan. Grocery stores, boulangeries, fromageries, and charcuteries are abundant in Paris, and you will have no problem buying food supplies for casual dining. Countless low-budget travel guides and blogs will give information about where to eat in Paris. We recommend that you research beforehand if you aren't sure what to expect
Activities
The program offers many activities that will help students engage with the cultural life of Paris, including:
social and cultural activities with French university students
excursions with French student groups to the Loire Valley, Vaux le Vicomte, Mont Saint Michel, and Belgium
French cuisine and wine workshops
local concerts, plays, and performances
student teaching and volunteer opportunities
Also, the Columbia Global Center has a robust program of concerts, art openings, symposiums and discussions throughout the year that are open to students on the program, free of charge.
Daily Living and Schedule
The daily schedule will depend on where you have your classes and will change throughout the semester. At the beginning of the semester, you will likely be at Reid Hall almost every day. Later, you may only come to Reid Hall a few times a week. You will likely commute 35-45 minutes to class daily. This is part of Parisian life.
Location
Located in the lively Montparnasse (sixth) district of Paris, Reid Hall was originally a porcelain factory, built in the early 18th century, before the French Revolution. Conveniently located near the Luxembourg Gardens, it is within walking distance of the Latin Quarter, as well as several branches of the University of Paris.
Today, Reid Hall primarily houses administrative offices and classrooms and also has a small reference library, a student lounge, and two large conference rooms. Students have access to WiFi in classrooms and all common areas of Reid Hall.
Reid Hall is known as a dynamic hub of art, culture, and intellect. At the center of this activity is its interior courtyard and private garden, overflowing with trees and flowers. Idyllic, Reid Hall is perfectly suited to be Columbia's location in Paris and gives students, faculty, and alumni a campus feeling in the heart of Paris.
Fall 2022 Calendar
- Saturday, September 3 - Move-in (*Students must arrive on this date)
- Monday, September 5 - Start of program
- September 5-9 - Orientation week
- September 12 - Start of Reid Hall classes
- October 24-28 - Reid Hall autumn break
- December 16 - End of program
- December 17 - Move out
People
You will have many questions throughout the phases of your experience abroad. Once you have reviewed the applicable information on this site, please feel free to contact our office.
New York
Please feel free to contact the adviser listed at the bottom of this page with questions.
Paris
For staff and faculty in Paris, please see the Paris-based Columbia in Paris site.
Financial Considerations
Many students use a combination of federal student aid and home school grants to fund their undergraduate studies. Many, if not most, of these funds are applicable to studying abroad for a semester or academic year. The costs of studying abroad during the semester or academic year are frequently comparable to those of staying on campus.
All students should work with their home school financial aid office to determine what aid is available for studying abroad.
Please see below for the cost breakdowns for detailed information on all program-related expenses:
Fall 2021:
Academic Year 2020-2021
​Spring 2022
*Please Note: Tuition and fees are subject to Board of Trustee approval and may change*
Finding Funding
For more information and resources on financing your time abroad, please see the pages below:
WITHDRAWAL & REFUND POLICY
If you decide to withdraw from the program after confirming your participation, please be aware of the financial consequences and the office policies by clicking here.
Spring 2022 ADAPTED REFUND POLICY
Due to the unique circumstances of study abroad while the global pandemic continues, we are adapting the refund policies, where possible, to provide some flexibility. The dates below reflect when programs will need to begin making financial commitments.
Deposit: $500
Due: Nov 5, 2021
This is a nonrefundable deposit that is applied to the Program Fee listed below. The deposit may be refunded for the following reasons until the start of the program:
Your home institution does not permit you to study abroad.

The program is cancelled before the semester begins. Reasons for cancellation may include but are not limited to concerns about safety and/or entry/exit restrictions.

Your visa is denied or revoked.
Program Fee: $1000 (less the $500 deposit)
The Program Fee covers orientation, housing, excursions and other activities during the semester.
Due: With Tuition Bill
Prior to the program start date, the program fee is non-refundable. Only limited recoverable costs may be refunded if:
Your home institution does not permit you to study abroad.

The program is cancelled before the semester begins. Reasons for cancellation may include but are not limited to concerns about safety, entry/exit restrictions, and/or insufficient enrollment.

Your visa is denied or revoked.
After the program begins, only limited recoverable costs may be refunded in the following cases:
Your home institution institutes a requirement for their students to leave the specific program location due to safety concerns.
The program makes the decision to ask students to leave the program location due to safety reasons but still offers online instruction.
Tuition:
If a student withdraws before the stated program arrival date, the student will not be charged tuition.
Once the program has begun:
If needed, the program can shift to online teaching. In this case, students will have the opportunity to complete their coursework and no tuition will be refunded.
If a student chooses to withdraw from the program after the stated arrival date or is dismissed from the program, the regular Withdrawal and Refund Policy will apply
Housing:
Payment must be made in full for the entire period of stay, limited recoverable costs may be refunded if:
Your home institution does not permit you to study abroad
The program is cancelled before the semester begins.
Resources for Accepted Students